How to Make a Plow Disc Cooker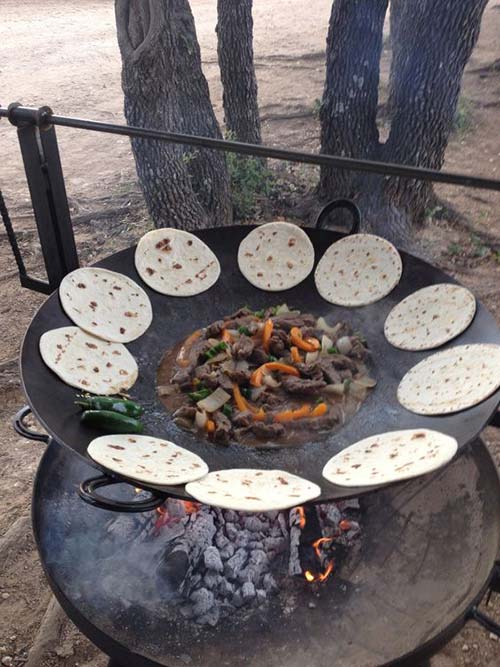 Simple and satisfying — if plow disc cooking had a motto, that would be it. This style of outdoor cooker proves that a first-rate meal really only requires a solid cooking surface, heat, and quality ingredients. Essentially a shallow wok, plow disc cookers serve up everything from buttery sauteed seafood and crispy fried fish to sizzling fajita fixings and piping hot tortillas. Making a plow disc cooker is a quick project requiring a plow blade, two handles, and trusty outdoor heat source.
Select a Heat Source
A plow disc works with nearly any heat source, including an indoor stovetop, but outdoor heat sources create the cooking conditions that plow discs are meant for. Aside from a pit fire, the propane-powered flame on a turkey fryer and a hot coal bed in a simple charcoal grill produce the high temperatures needed for a perfectly caramelized sear on a steak or for the scorched blistering on flavorful peppers and chilies.
Switch the fry pot for a steel blade, and a turkey fryer setup becomes a plow disc cooker. Use a round turkey fryer stand with an adjustable propane flow connector. Be careful of the inevitable hot spot at the very center of the cook surface. Even though a steel plow disc distributes heat well across its entire surface, it likely sits just 1 or 2 inches above the burner flame. The otherwise consistent, long-burning heat from a turkey fryer base is perfect for spicy Spanish paella and other slow-cook plow disc dishes.
Although it takes longer to stoke, a basic round charcoal grill works just as well as a turkey fryer burner. Choose a full-size circular grill with a fully removable lid and grate. The grill should measure at least 28 inches tall with a diameter from 14 to 18 inches. The grill height takes the backache out of cooking on a plow disc. With the plow disc resting flush around the grill rim, the charcoal may not get enough oxygen through the undersized vent holes to build a good coal base, so leave it off until the charcoal is burning hot and steady.
How To Make A Disk Cooker
How To Season A Disk Cooker
A little oil and elbow grease keep a plow disc cooker in good condition. After cooking and while the disc is still hot, pour in a few cupfuls of water. Scour the surface with steel wool, and dump the water before carefully wiping it dry. Once the disc is cool, rub it well with a capful of high-heat cooking oil and a clean paper towel to prevent rust. Expect the steel to darken over time — this is the sign of a well-used, well-seasoned plow disc cooker.
How to Buy Plow Disc Cookers on eBay

Buyers with an appetite for incomparable al fresco cooking can find plow disc cookers and the supplies needed to make them on eBay. Plow discs are heavy and can be expensive to ship, so search for available products within a certain location radius or for listings that include free shipping. Search for an item by typing keywords into the main search bar on any page on the site, and then select other necessary refinements to narrow the search results to exactly what you want.
Source : Ebay.co.uk
Page 2 of 2