3 Wines You Can Make at Home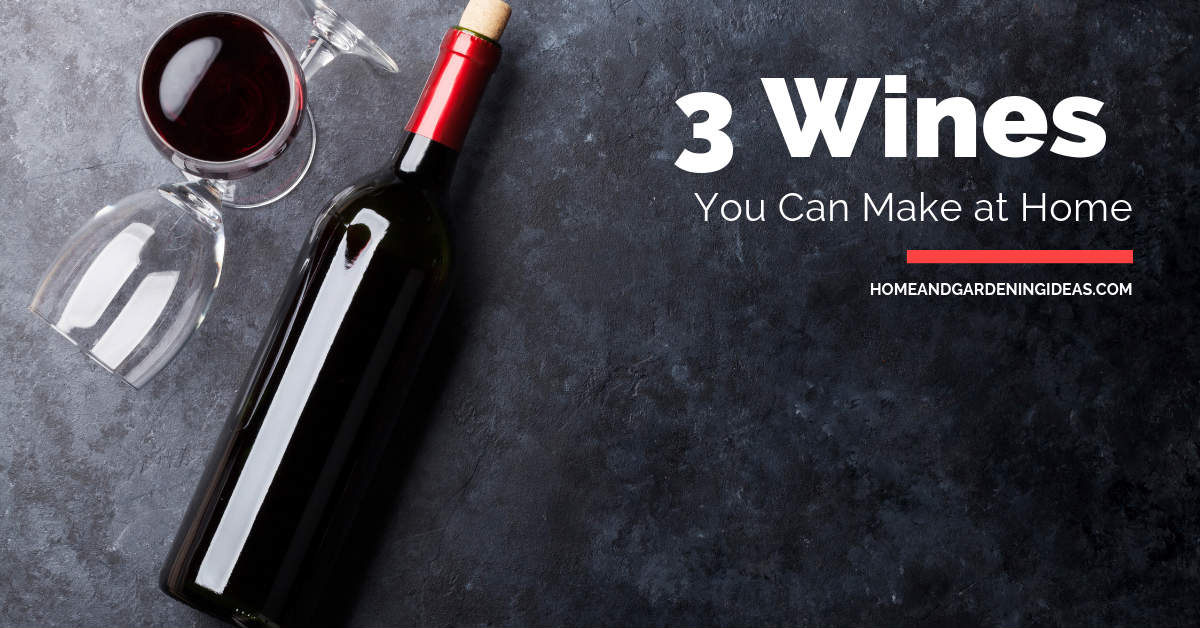 Did you know that making wine at home isn't as difficult as people and companies might make you think? Making homemade wine started thousands of years ago without fancy equipment, and you can do the same. It can become quite an exciting hobby for many, experimenting with new flavors and complexities.
If you are ready to give it a shot, here are some easy wine recipes that you can make at home without a lot of fancy equipment.
How Do You Really Make Wine?
Before you dive into making wine, let's run through what making wine really is. Winemaking is fermentation that involves adding yeast to a mixture of fruit, water, and sugar. The yeast eats the sugar which turns the mixture into half-alcohol and half carbon dioxide.
The hardest part is waiting for your wine to be ready. Wine relies on the fermentation process which takes time. Some recipes are ready in as little as 4 to 6 weeks. Many need to age for at least six months to one year for proper flavor development. Waiting is standard for all fermentation goods, even if you ferment veggies.
Welch's Grape Fruit Juice Wine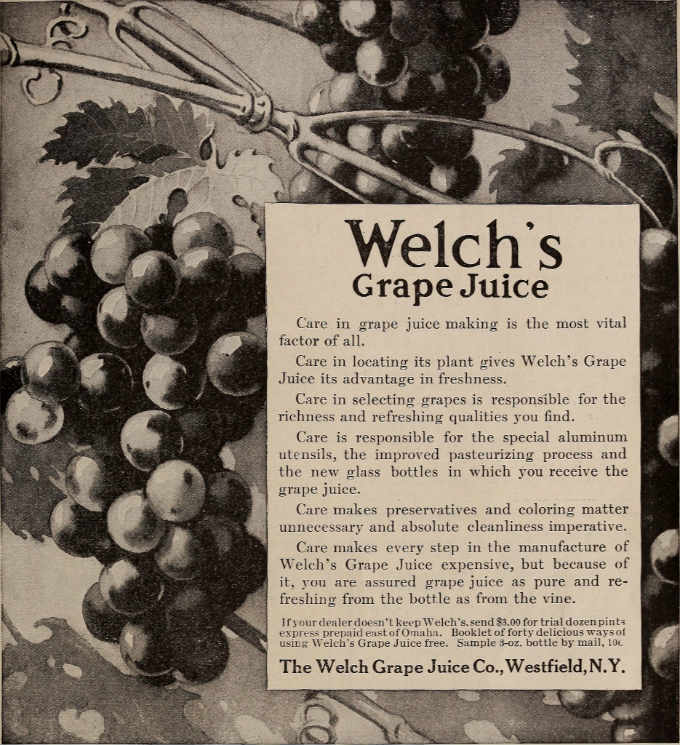 Using Welch's Grape Juice is one of the first ways that budding winemakers try. You can either get the Welch's Grape Juice that is in a bottle or you can purchase the juice concentrate frozen then reconstitute it yourself. Either the white or concord grape juice works; that choice is up to you!
Preparation:
If you are using the bottle, reserve 1 ½ cups of juice from the bottle for drinking. The rest is for the wine. If you want to use frozen concentrate, you need four 12-ounce cans. Pour them into a 1-gallon bottle or wine jug. Add 5 cups of water and mix well. It works best if the concentrate was entirely defrosted first.
Using a funnel, pour 1 cup of sugar into the bottle. Put the lid on the bottle and shake until the sugar is dissolved entirely. Then, add wine yeast to the bottle. You should use red wine yeast for Concord grape juice and white wine yeast for white grape juice.
Get a balloon and use a needle to poke one or two holes at the top of it. Make sure the balloon is thick! Stretch and secure the balloon over the opening of the juice bottle. Mark down the date, and allow the juice to rest undisturbed for 30 days.
In 30 days, check the juice. If the balloon is still inflated, it's not ready, and it needs to ferment for longer. If it's deflated, the juice is ready!
Strawberry Wine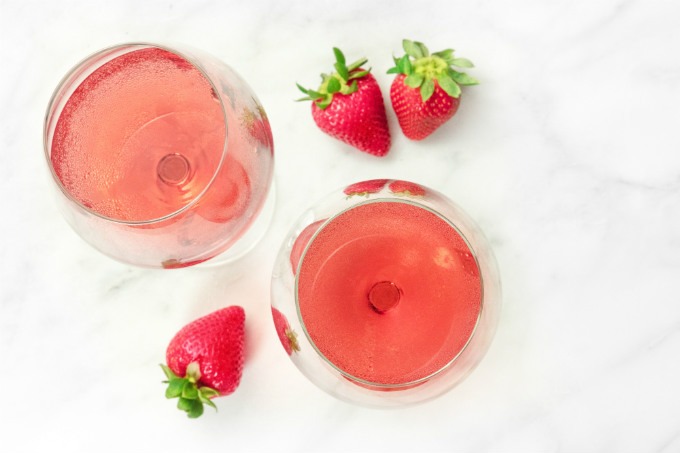 Now that you wet your feet, so to speak, it's time to make some wine from fruit. The process isn't scary, so let's give it a whirl!
Strawberry wine is another first that people often try. It's not too sweet, but it has a yummy flavor that will shine through, even when the wine is dry. Don't skimp on purchasing or using good fruit. The wine will only be as good of quality as the fruit you use. You should get around 2 ½ gallons of strawberry wine with this process.
Ingredients:
7 pounds of whole, fresh strawberries, washed and hulled

2 gallons boiling water

Juice of 1 lemon

5 pounds of sugar
Preparation:
Mash the strawberries together in a large crock. Cover with boiling water, add lemon juice and stir for two minutes. Cover the crock with a strip of clean linen, and allow it to rest in a cool, dark place. Stir daily for one week.
Then, after seven days, fold a strip in cheesecloth over, creating a double layer, and strain the strawberry mixture into a clean bowl. Discard the pulp! Then, combine the strawberry liquid with the sugar, and stir. Pour into a new, clean crock, and let stand for an additional week, stirring daily.
After the second week, transfer the strawberry liquid mixture into one-gallon glass jugs and cork loosely. These bottles need to set for at least three months in a cool, dark place. Once the wine is clear and stops bubbling, you can transfer it to individual wine bottles, cork, and age for at least a year before drinking.
Dandelion Wine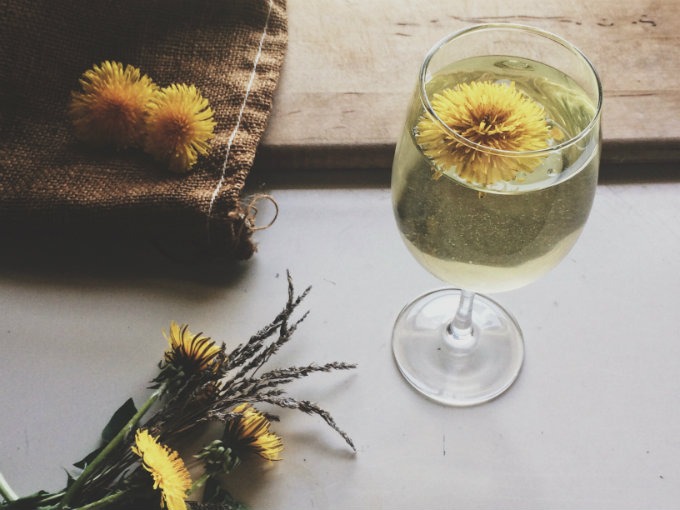 Believe it or not, those yellow flowers that dot your lawn throughout the spring and part of the summer ARE good for things! One of the things you can use dandelions for is wine, and it makes a delicious wine. Dandelions are highly nutritious and make a lovely, yet, unusual flavor, particularly if you mix it with citrus, ginger, and spices.
Word of cautious: only pick dandelion blossoms from lawns that you know are not sprayed herbicides or insecticides. It's safest to use dandelions from your own yard since you will know for sure if they aren't sprayed. You really don't want to drink herbicide or insecticide.
Ingredients:
¼ cup warm water

1 package dried yeast

2 quarts dandelion blossoms – ONLY the blossoms, no green parts

4 quarts water

1 cup orange juice

3 TBSP lemon juice

3 TBSP lime juice

8 Whole Cloves

½ TSP ground ginger

3 TBSP Coarsely Chopped Orange Peel

1 TBSP Coarsely Chopped Lemon Peel

6 Cups Sugar
Preparation:
The hardest part of this is picking 2 quarts of blossoms. Enlist your friends and kids! You don't want any green parts, just the yellow blossoms. Once picked, wash the dandelions, then place them into a pot with water, orange, lemon, and lime juice. Add the cloves, ginger, orange peel, lemon peel, and sugar. Bring this mixture up to a boil.
Allow those ingredients to boil together for one hour. Then, strain it through a coffee filter, and allow it to cool down. You don't want it hot just warm when you stir in the yeast.
Now it's time for the mixture to stand overnight. Make sure that you cover it! The next day, pour into bottles and leave uncorked. These bottles need to sit in a dark place for at least three weeks. Then, cork and store in a cool area for six months to a year before drinking. Dandelion wine makes a perfect addition to the holiday alcohol selection!