25+ Garden Bed Edging Ideas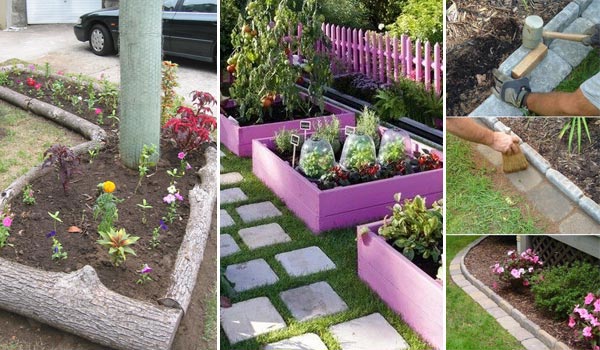 These simple, attractive borders will keep grass from invading your garden and eliminate the need for edge trimming. We'll show you lots of option for dividing up your garden such as  metal, paver and stone edgings. Not only do they look great, these borders require almost no maintenance.
Brick edging for your flower beds
If you want a maintenance-free way to prevent your lawn from encroaching on your flower beds then this is the edging for you. Source:gardeenworld.blogspot.co.uk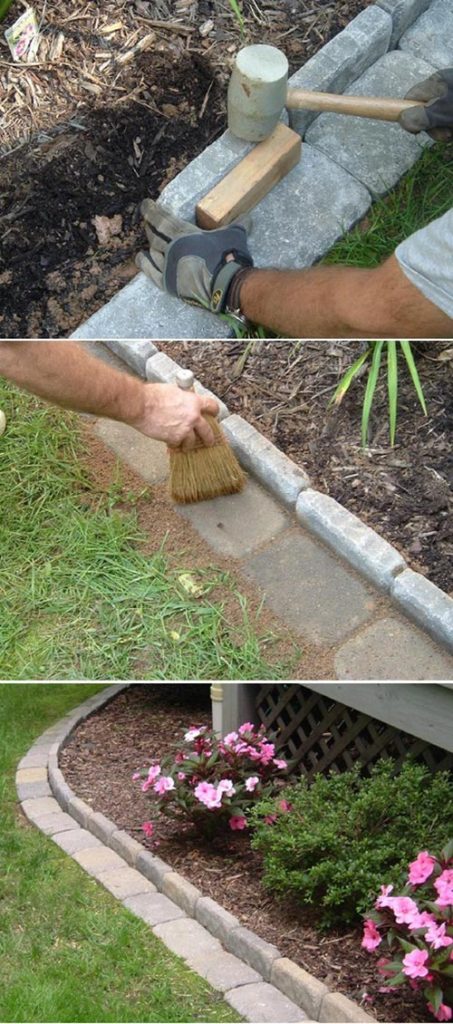 Metal/plastic: A nearly invisible border
The simplest and most subtle borders that effectively separate your lawn from a garden are 4-in.deep strips of steel, aluminum or plastic.  Source: Dimex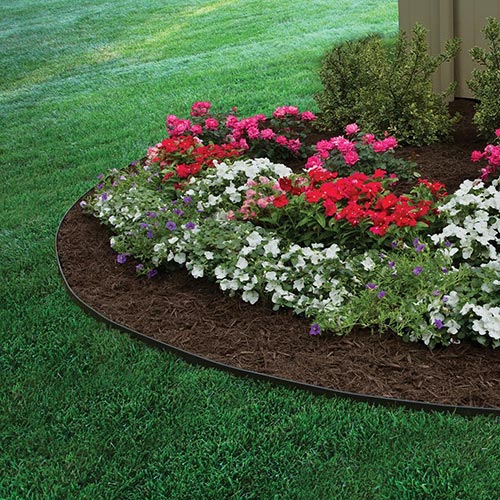 lined recycled glass bottles
This path of decomposed granite & lined with recycled glass bottles forms a wonderful labyrinth. Source: Dee Kincke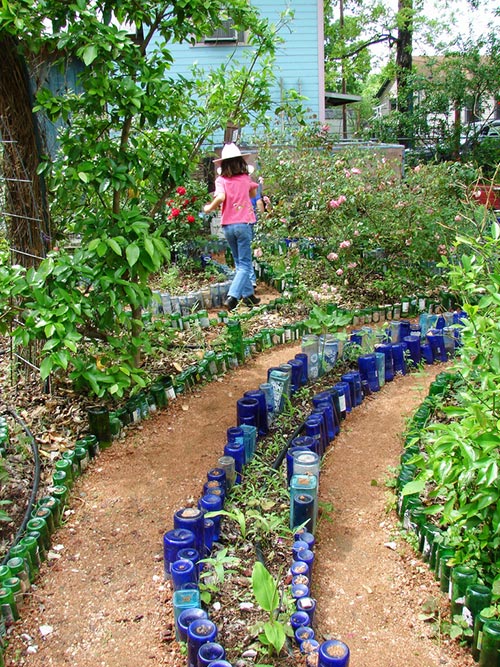 Gabion Mini Wall Edging
Before…boring And A Lot Of Turf! We Know You're Wondering What That Is In The Middle Of The Rocks… It's An Art Piece Inspired By The Homeowner And Her Son's Old Boat Engine! source: greenlandscapestoenvy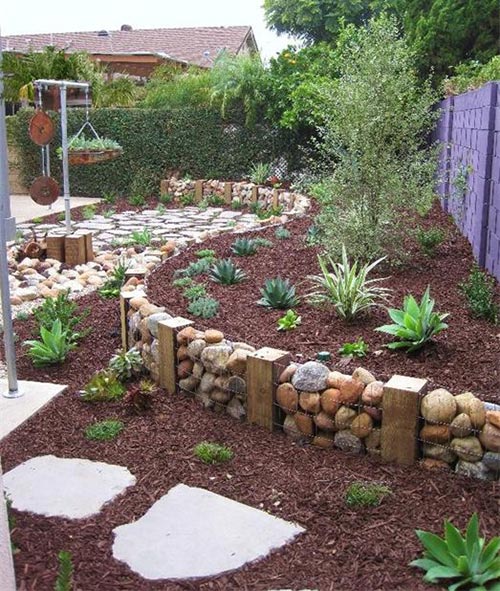 Cement Block Raised Bed
Stack cinder blocks as the border, and fill with nutritious garden soil. You can even plant herbs or flowers within the blocks themselves! source: Burpee Home Gardens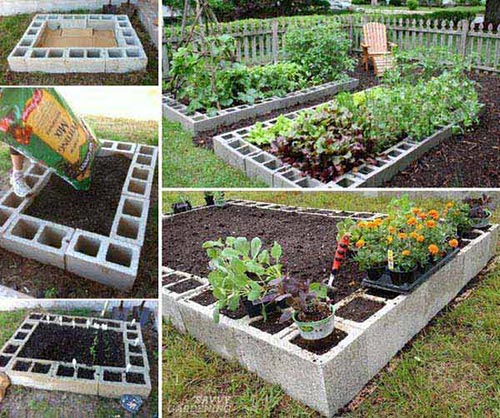 Old metal wheels
look for them at flea markets – wired together to make edging for a planting bed. source: thisoldhouse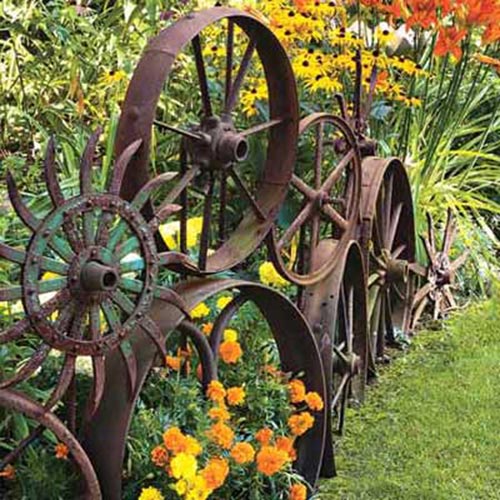 Lasagna garden bed
How great is this use old branches to make a garden edge for your vegetable garden. source: grainedeparesse.canalblog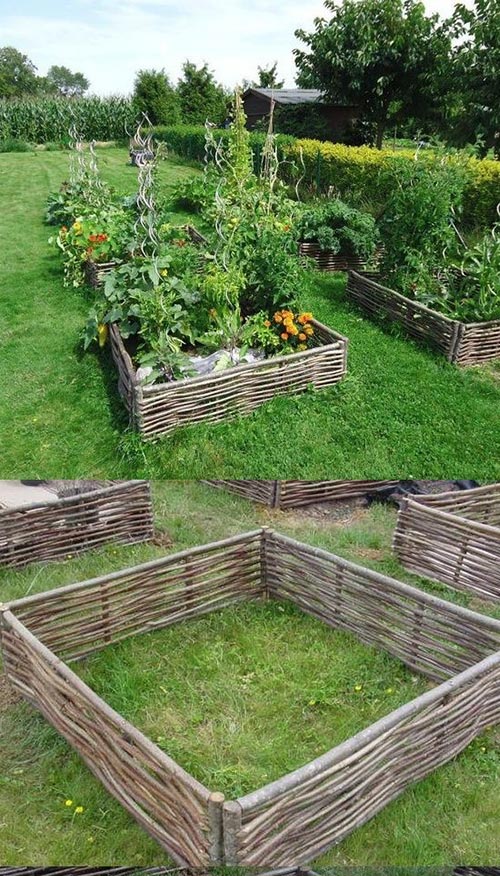 Old Tree logs
Sydney's most-loved power pole stands proudly in Beresford Road, Bellevue Hill. Source: walksydneystreets.net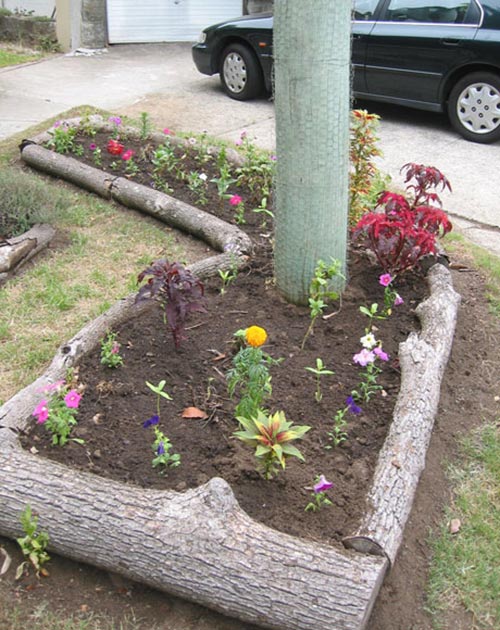 brick edging
Make an attractive garden bed edging using bricks set on a bed of gravel and sand. source: deucecitieshenhouse.com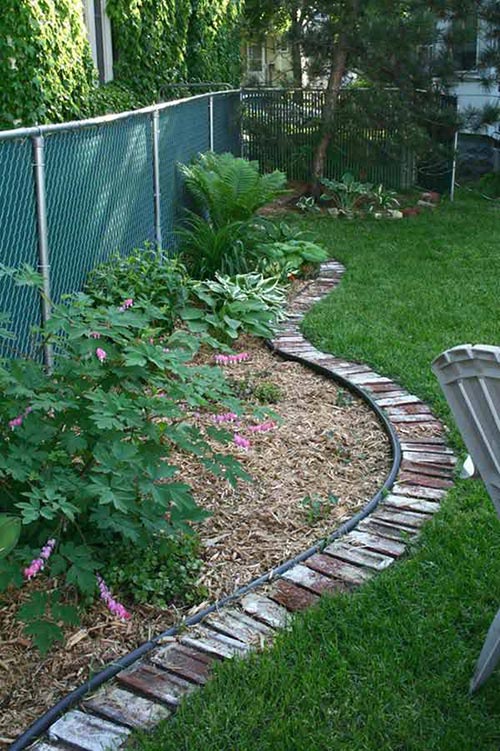 Log edging
Log edging is ideal for border edges or for creating attractive small boundary fencing. source:cheapseeds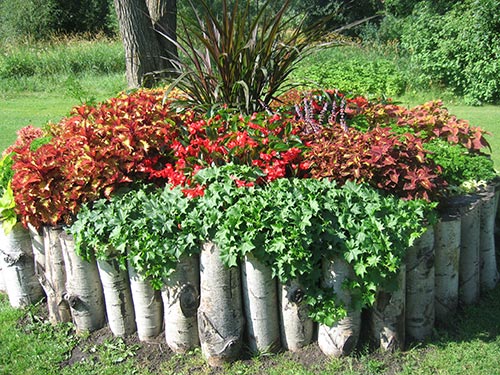 Recycled bicycle wheels 
Can old bike wheels be given new life? The answer is yes. Old items are not useless at all.  source: reciclaedecora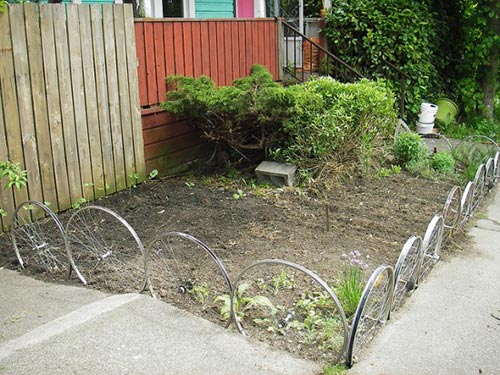 Large Gabions raised bed
t's as uncomplicated to set up and as durable as our elevated beds made of larch wood or corrugated iron. With time, this raised garden bed will grow beautifully into the natural garden landscape, when, for example, grass and wild flowers climb up on the steel grilles. Source:manufactum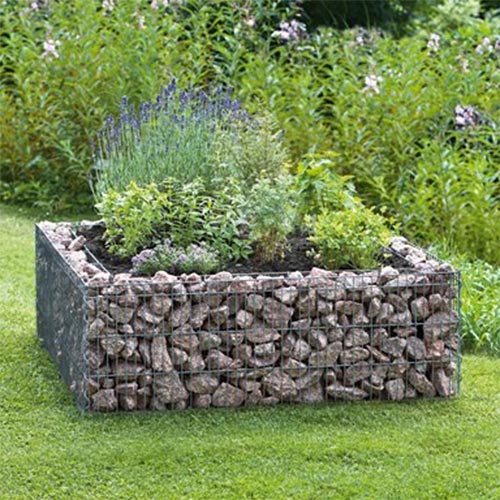 vertical railway sleepers
Railway sleeper make ideal edging, they are cheap and so easy to work with, i made my garden beds from railway sleepers and they only cost me $10 each delvered.  source:kilgraney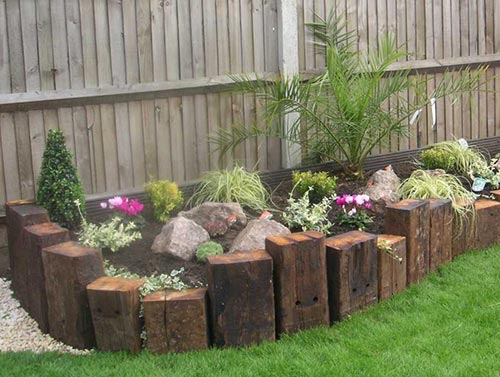 Herb garden edging
using herbs as edging is a good way to smarten up your garden and give some definition to your beds and borders. source: forums.gardenweb.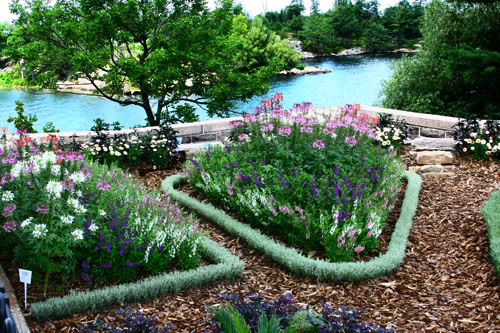 Reclaimed wood Edging
Reclaimed wood, cut to various lengths, can artfully punctuate your garden beds. Even small scraps are enough for a small garden. source:bobvila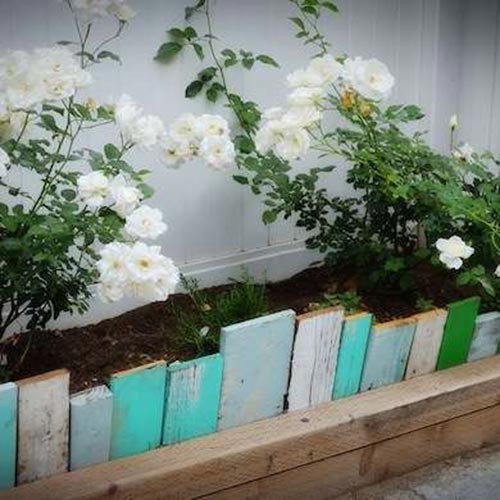 Dry Creek Bed Edging Idea
This idea is to use a dry creek bed to edge your lawn this gives a very craeative look to your garden. source: pinkandgreenmama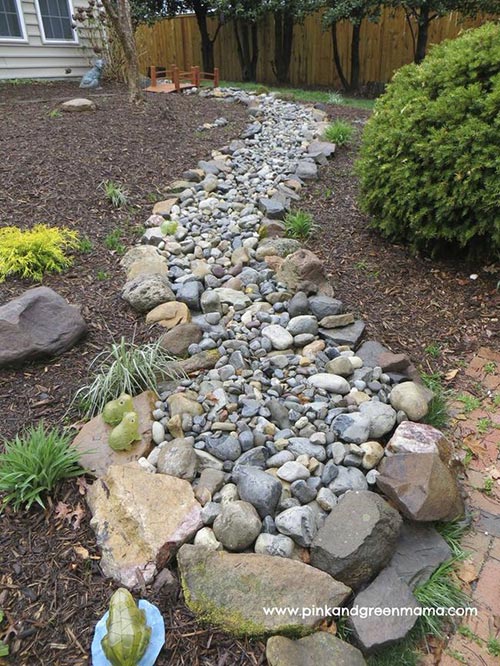 Planting in the wood/metal troughs
This is a great way to divide your garden area up you could have one or two kids of plants in each trough. no need for any edging as the troughs have there own. source: planetnatural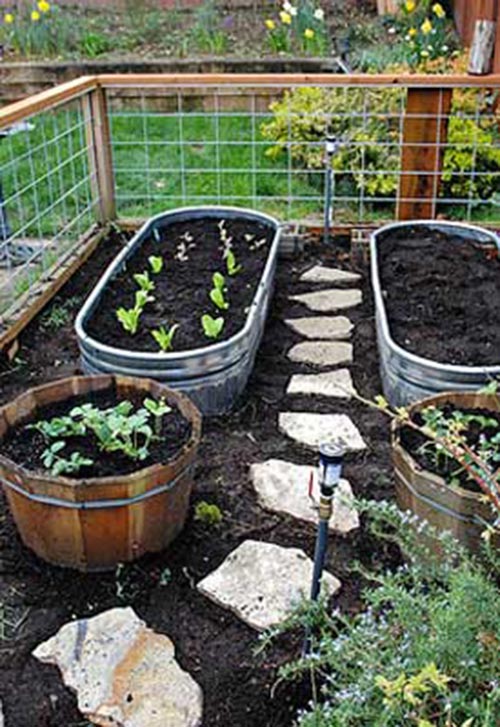 Straw bale garden bed edging
They're easy to build (a morning's work!) They're virtually maintenance free. They mirror nature to create a rich, organic environment for your plants. source: howto-garden.com.au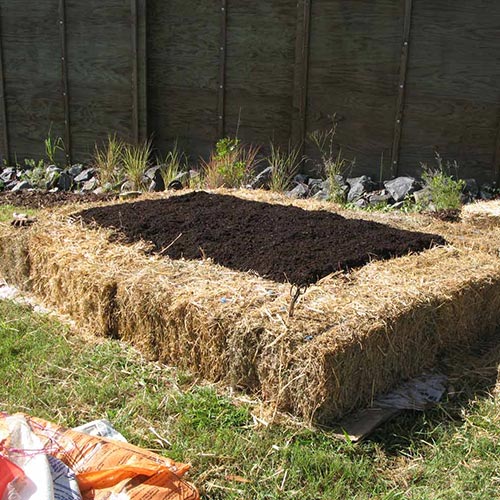 Seashells 
Perfect for a beach themed home, or just because you love the beach! We would suggest half burying the shells with soil to help keep them in place.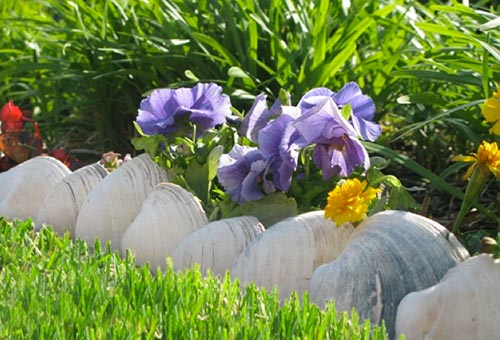 Steel edging
Steel edging is a very common landscape option, but depending upon your choice of color, it can make very different statements. Black steel edging looks more formal; green and brown are more traditional. source: houzz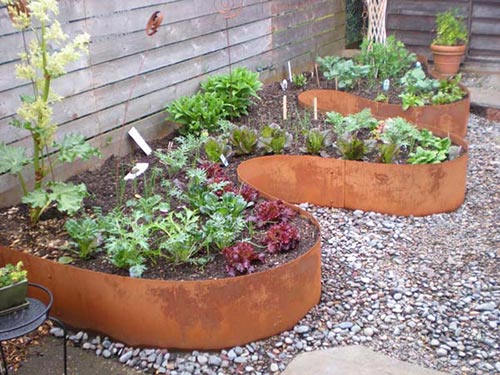 Painted Pallets as borders
We all know how useful pallets are here is a simple way to give your gaden bed an atteactive lookign border. If you do not like pink could always go for a more natural color such as green. source: lookathome.ru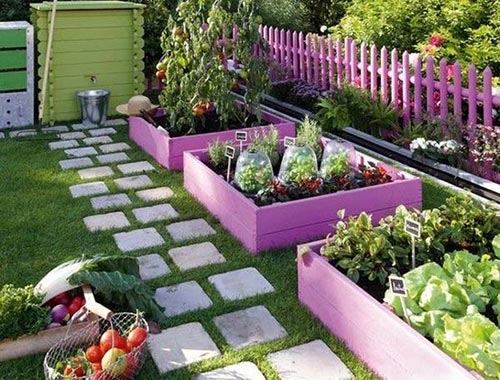 Terracotta Pipes
The border for the garden beds is made out of old terracotta pipes that we bought from an op-shop [previously they were someone's wine cellar]. We dug down a third of the length of the pipes before bedding them into the soil. source: apartmenttherapy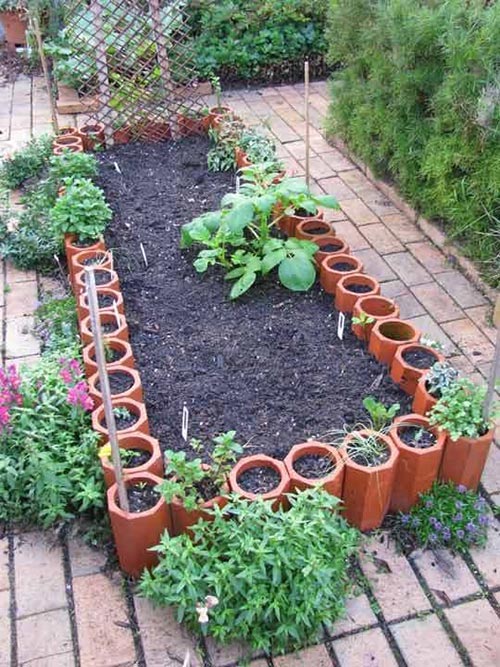 steel cylinders with plantings
source: floradoragardens.blogspot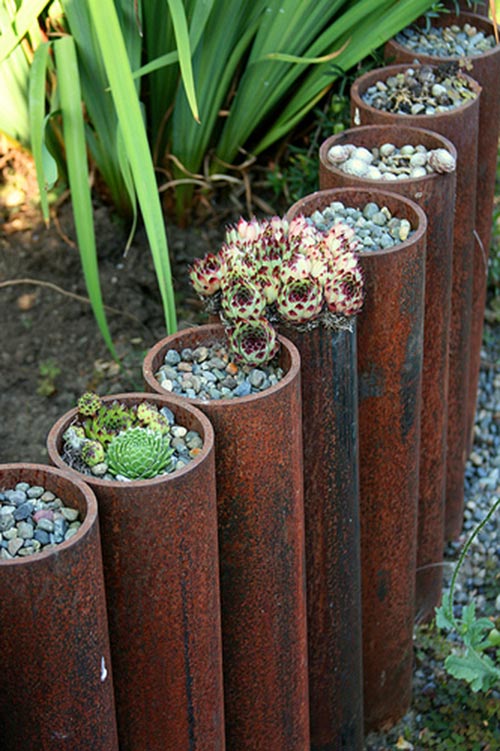 U-Shaped Raised Garden Bed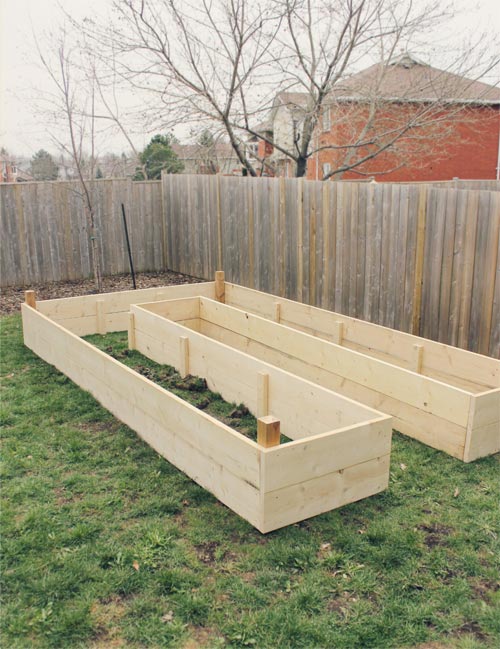 woven raised bed garden
Here is a picture of a woven raised bed, so you can see how it looks, and from there, it is kind of a "make it how you want " project.  source: gardening-forums.com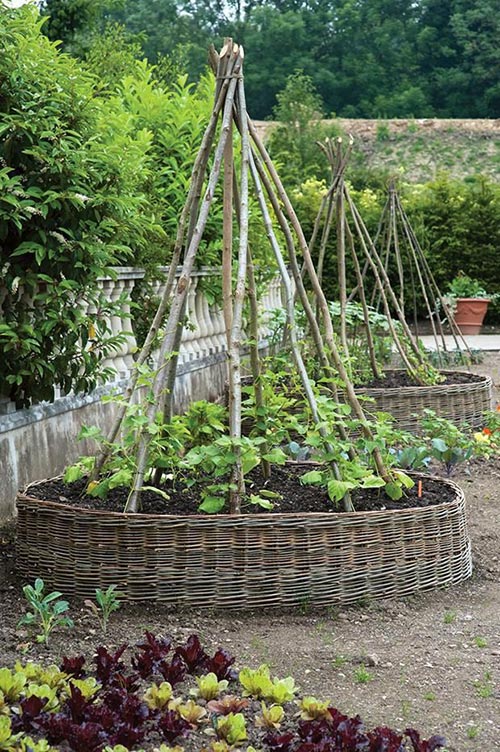 Wattle edging around a square foot garden.
Has seasonal pruning left you with numerous, long, flexible tree suckers and saplings? You will need to move fast, as those branches will become too stiff to weave soon after cutting. Drive stakes. Weave like a basket. source: squarefootgardening.org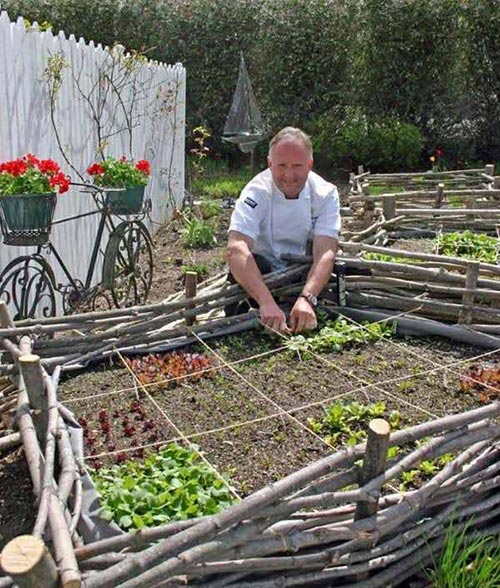 China plate garden border
I am not really sure about this one i like the way it looks but i would be so scared of breaking the china plates.  source: architecturendesign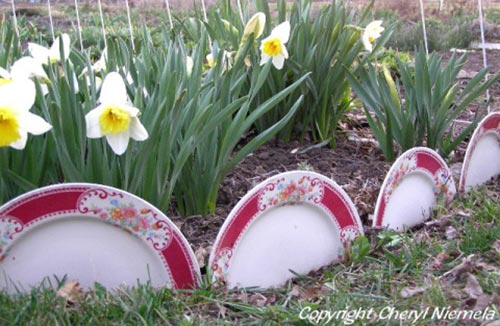 page 2 of 2