The Best Monkey Bread Recipe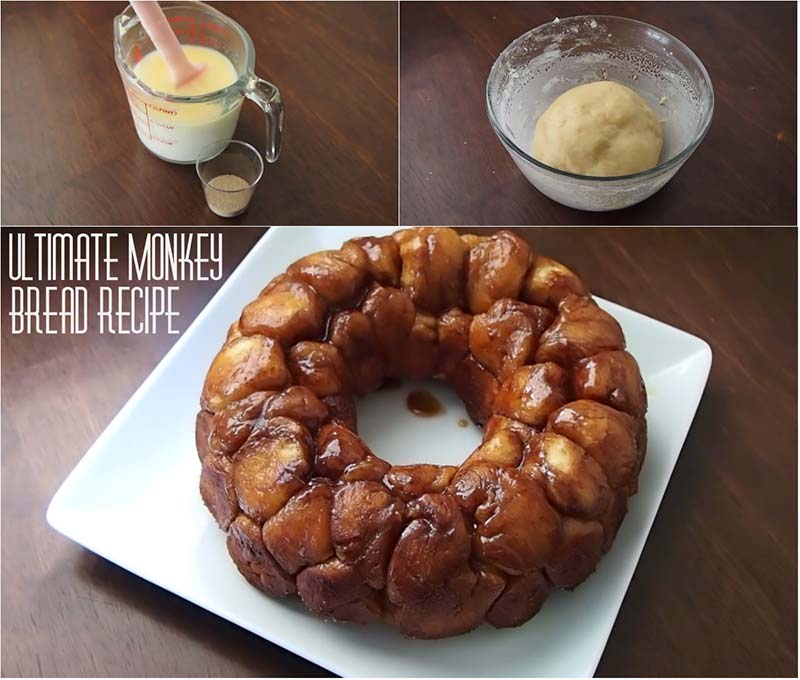 Monkey bread is addictive. You will want it for breakfast, snack or whenever you can find the time to eat it. It is gooey, sweet and glossy with caramel sauce. You will want to eat it all the time. Many people feel too intimidated to get started making their monkey bread. I promise; it is easy. Here is the best monkey bread recipe!
Ingredients:
-Dough-
4oz whole milk
2 TBS + 2 TSP unsalted butter
1 ¼ TSP yeast
1 room temperature egg
2 ¼ cup flour
½ TSP salt
¼ cup Sugar
-Spice Mixture-
1/3 cup sugar
1 ½ TBSP cinnamon
¼ TSP ground cloves
-Caramel Sauce-
1 stick unsalted butter
1 cup brown sugar
¼ heavy cream
Pinch of salt
Directions:
Heat your whole milk with unsalted butter to 110 degrees. Don't make it too hot. Otherwise, you will kill your yeast. Whole milk is ideal.
Sprinkle in your yeast and set it aside.
In another bowl, beat the room temperature egg. Then, add the flour, sugar, salt, and the milk, butter and yeast mixture.
Mix your dough together well until it only clings to itself. If you touch the dough, it shouldn't stick to your hands! If it doesn't, keep mixing and add a bit more flour, but not too much! It should be soft and smooth.
Put the dough back in an oiled bowl and set it aside. It must double in size.
While you wait for the dough to rise, get started with the next parts! Take your unsalted butter, heavy cream, heavy pinch of salt and brown sugar and put them into a pot. Melt until everything is well mixed together. To create this caramel sauce, you don't need to cook at any particular temperature. Just mix well.
Then, mix together the spice mixture, which is cinnamon, cloves, and sugar in a separate bowl.
GO back to your dough. Lightly flour a surface. Too much flour is not good for the monkey bread! You are going to pinch off pieces of the dough. Then, roll the dough piece into a ball. Toss the ball into melted butter and the cinnamon sugar pieces. It is very simple. Complete this step with the entire dough batch.
Then, take some caramel sauce and drizzle it into your bundt pan. Put the dough ball pieces on the bottom. Then, create another alternate layer with caramel sauce and more dough balls. Continue until all of them fill up the bundt pan.
Cover with plastic. Let it rest for some time, no more than an hour.
Put it in the oven at 400 degrees for 14-17 minutes.
Remove from the oven and remove from the pan.
Everyone in your family is going to love this recipe! It is so simple and enjoyable. Kids love to pull the pieces apart. The stickiness is fun for everyone. Even though the recipe does take some time to create, the flavors and enjoyment are well worth it!