Mastering Meat Smoking: A Guide to Professional Results with Home Equipment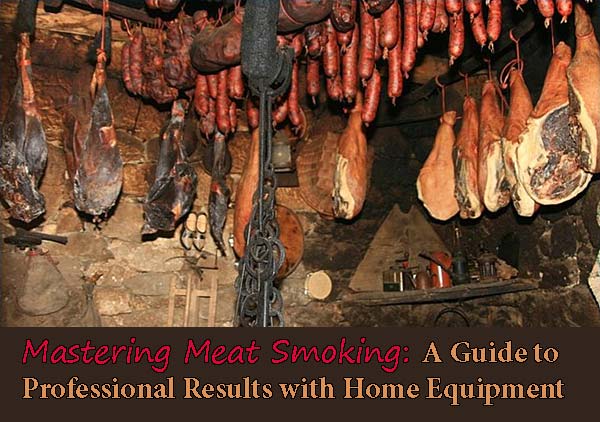 The Grill Method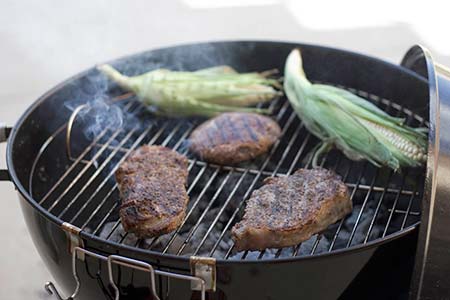 The key to smoking meats in general is to maintain a low temperature over a longer period of time than standard cooking methods while providing consistent smoke. On a grill, this can take a bit of practice.
To start with, on a standard kettle-style charcoal grill, you'll want to start with a chimney-style starter full of assorted charcoal. Hardwood charcoal burns with an intense and clean heat but doesn't tend to last very long. Charcoal briquettes, on the other hand, burn at a lower heat for a longer period of time. A combination of the two is optimal to begin smoking meat over a grill. Once you have a mound of charcoal which is covered in light gray ash and not directly flaming, you should push it all off to one side of the grill.
To properly barbecue or smoke meat, you will want to use indirect heat rather than putting it directly over a mass of super-hot coals. Keep a supply of these various coals handy though, as you will need to periodically add a few to the hot side of the grill to keep the grill temperature constant.
As for smoke, hardwood is always the way to go to smoke meats, so you'll want to have a supply of wood chips such as oak, apple, cherry, mesquite, hickory, or pecan. No matter which variety of hardwood you choose for your recipe, be sure to soak the chips in a bowl of water for at least an hour before use. This will encourage smoking, rather than burning away of the wood within just a few minutes. One easy way to preserve the integrity of your wood chips is to wrap the wet chips in aluminum foil with some holes punctured to allow for air/smoke flow.
To smoke your chosen meats, simply place them on the "cool" side of the grill and monitor regularly the temperature of the grill, the moisture of the wood, and of course, the internal meat temperature according to your personal and recipe preferences.
page 2 0f 2