Homemade Pumpkin Spice Pancakes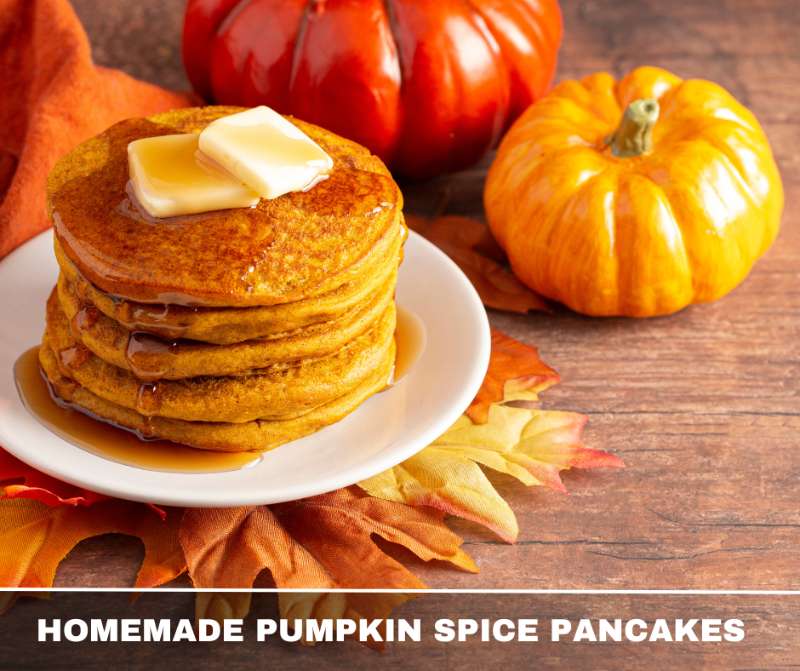 As the air turns crisp and the leaves start to don their golden hues, there's no better way to embrace the cozy vibes of fall than with a stack of homemade Pumpkin Spice Flavored Pancakes.
Combining the warmth of pumpkin, the aromatic blend of spices, and the comfort of fluffy pancakes, this recipe is a symphony of autumnal flavors that will undoubtedly become a seasonal favorite. Read on to discover how to whip up these delectable pancakes that capture the essence of fall on a plate.
Ingredients:
1 cup all-purpose flour
2 tablespoons granulated sugar
1 teaspoon baking powder
1/2 teaspoon baking soda
1/4 teaspoon salt
1 teaspoon ground cinnamon
1/2 teaspoon ground nutmeg
1/4 teaspoon ground cloves
1/2 cup pumpkin puree
1 cup buttermilk
1 large egg
2 tablespoons unsalted butter, melted
1 teaspoon vanilla extract
Instructions:
Preheat and Prepare: Heat a griddle or non-stick skillet over medium heat. Preheat your oven to 200°F (93°C) to keep the pancakes warm as you cook them.
Combine Dry Ingredients: In a large mixing bowl, whisk together the flour, sugar, baking powder, baking soda, salt, cinnamon, nutmeg, and cloves. This aromatic blend of spices will infuse the pancakes with that signature pumpkin spice flavor.
Mix Wet Ingredients: In a separate bowl, whisk together the pumpkin puree, buttermilk, egg, melted butter, and vanilla extract until well combined. The pumpkin puree adds both moisture and the unmistakable autumn flavor.
Combine and Rest: Gently fold the wet ingredients into the dry ingredients, stirring until just combined. Be careful not to overmix; a few lumps are perfectly fine. Allow the batter to rest for about 5 minutes. This allows the flavors to meld and the batter to slightly thicken.
Cook the Pancakes: Grease the griddle or skillet with a bit of butter or cooking spray. Ladle about 1/4 cup of the batter onto the griddle for each pancake. Cook until bubbles form on the surface, then flip and cook the other side until golden brown. Keep the cooked pancakes warm in the preheated oven while you finish cooking the rest of the batter.
Serve and Enjoy: Serve the Pumpkin Spice Flavored Pancakes warm, stacked high, and drizzled with maple syrup. The comforting aroma and delightful taste will transport you to the heart of autumn with every bite.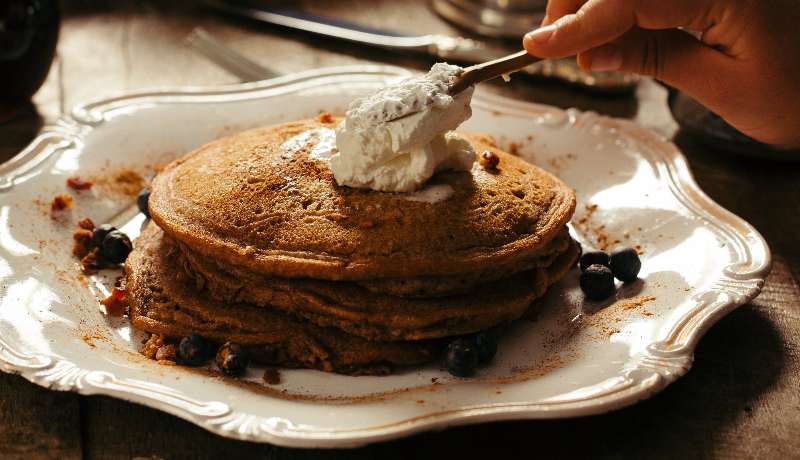 What to Serve with Pumpkin Spice Pancakes:
Whipped Cream and Chopped Pecans: Top your pancakes with a dollop of freshly whipped cream and a sprinkle of chopped pecans for a luxurious texture and added nutty flavor.
Cream Cheese Frosting: For a decadent twist, spread a layer of cream cheese frosting between each pancake and create a pancake layer cake. Garnish with a dusting of cinnamon.
Apple Compote: Simmer sliced apples with a touch of brown sugar, cinnamon, and a splash of apple cider to create a warm and spiced apple compote. Serve generously over your pumpkin spice pancakes.
Crispy Bacon or Sausage: The savory saltiness of crispy bacon or sausage links provides a wonderful contrast to the sweetness of the pancakes, creating a balanced and satisfying meal.
Hot Apple Cider: Pair your pumpkin spice pancakes with a mug of hot apple cider spiked with a hint of cinnamon and cloves for the ultimate fall breakfast experience.
Embrace the spirit of fall with Pumpkin Spice Flavored Pancakes that are bursting with seasonal warmth and flavor. Whether you're enjoying a leisurely weekend breakfast or hosting a cozy brunch gathering, these pancakes are sure to delight your taste buds and evoke the magic of autumn.
Experiment with various toppings and accompaniments to create a memorable breakfast that celebrates the joys of the harvest season.