Fireball Cinnamon Whiskey Pumpkin Pie Recipe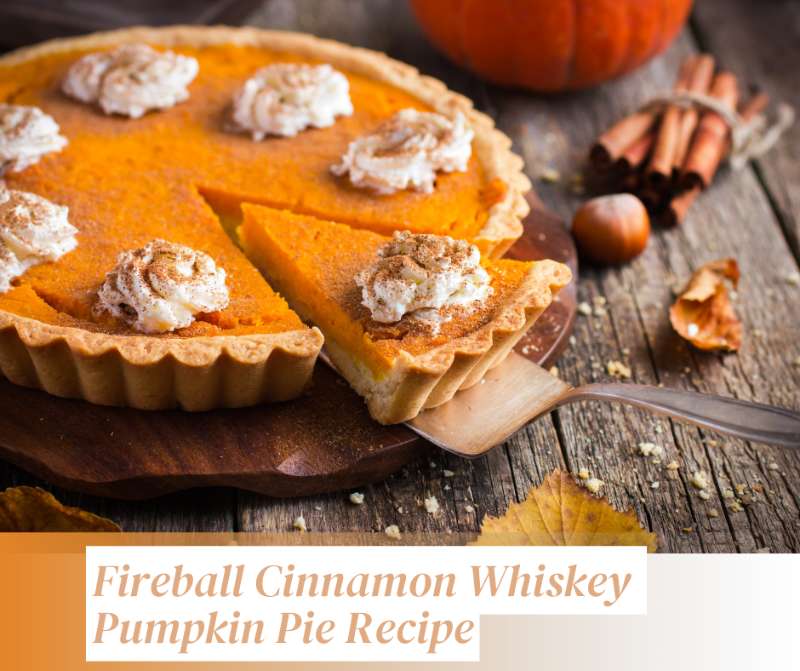 Indulge in a captivating fusion of flavors with our Fireball Cinnamon Whiskey Pumpkin Pie recipe. This tantalizing twist on the classic pumpkin pie combines the warmth of cinnamon, the richness of pumpkin, and the bold kick of Fireball Cinnamon Whiskey.
Whether you're hosting a fall gathering, a festive dinner, or simply craving a unique dessert experience, this pie is destined to ignite your taste buds and leave a lasting impression.
Ingredients:
For the Crust:
1 ½ cups graham cracker crumbs
1/3 cup granulated sugar
6 tablespoons unsalted butter, melted
For the Filling:
1 ½ cups canned pumpkin puree
½ cup brown sugar
½ teaspoon salt
1 teaspoon ground cinnamon
½ teaspoon ground nutmeg
¼ teaspoon ground cloves
3 large eggs
1 cup heavy cream
½ cup Fireball Cinnamon Whiskey
For the Whipped Cream Topping:
1 cup heavy cream
2 tablespoons powdered sugar
1 teaspoon vanilla extract
Instructions:
Preheat the oven to 350°F (175°C).
In a medium bowl, combine the graham cracker crumbs, granulated sugar, and melted butter for the crust. Press the mixture firmly into the bottom and up the sides of a 9-inch pie dish. Bake the crust in the preheated oven for 8-10 minutes, or until it's lightly golden. Remove from the oven and let it cool while you prepare the filling.
In a large mixing bowl, whisk together the pumpkin puree, brown sugar, salt, ground cinnamon, nutmeg, and ground cloves until well combined.
In a separate bowl, lightly beat the eggs, then add them to the pumpkin mixture. Stir until the eggs are fully incorporated.
Gradually add the heavy cream and Fireball Cinnamon Whiskey to the filling mixture, stirring continuously until smooth and uniform.
Pour the pumpkin filling into the prepared graham cracker crust.
Bake the pie in the preheated oven for 40-45 minutes, or until the filling is set around the edges and slightly jiggly in the center.
Once baked, remove the pie from the oven and allow it to cool completely on a wire rack.
While the pie is cooling, prepare the whipped cream topping. In a mixing bowl, beat the heavy cream, powdered sugar, and vanilla extract until stiff peaks form.
Serve slices of the Fireball Cinnamon Whiskey Pumpkin Pie with dollops of whipped cream on top.
The Fireball Cinnamon Whiskey Pumpkin Pie is an extraordinary dessert that marries the comforting essence of pumpkin pie with the electrifying allure of Fireball Cinnamon Whiskey.
This delightful creation is bound to become a conversation starter at any gathering, inviting your guests to savor the unexpected combination of flavors. So, whether you're seeking to elevate your autumnal celebrations or craving an innovative dessert experience, this pie is a perfect choice that promises both warmth and excitement in every bite.