Keep The Bugs Away With These Homemade Bug Sprays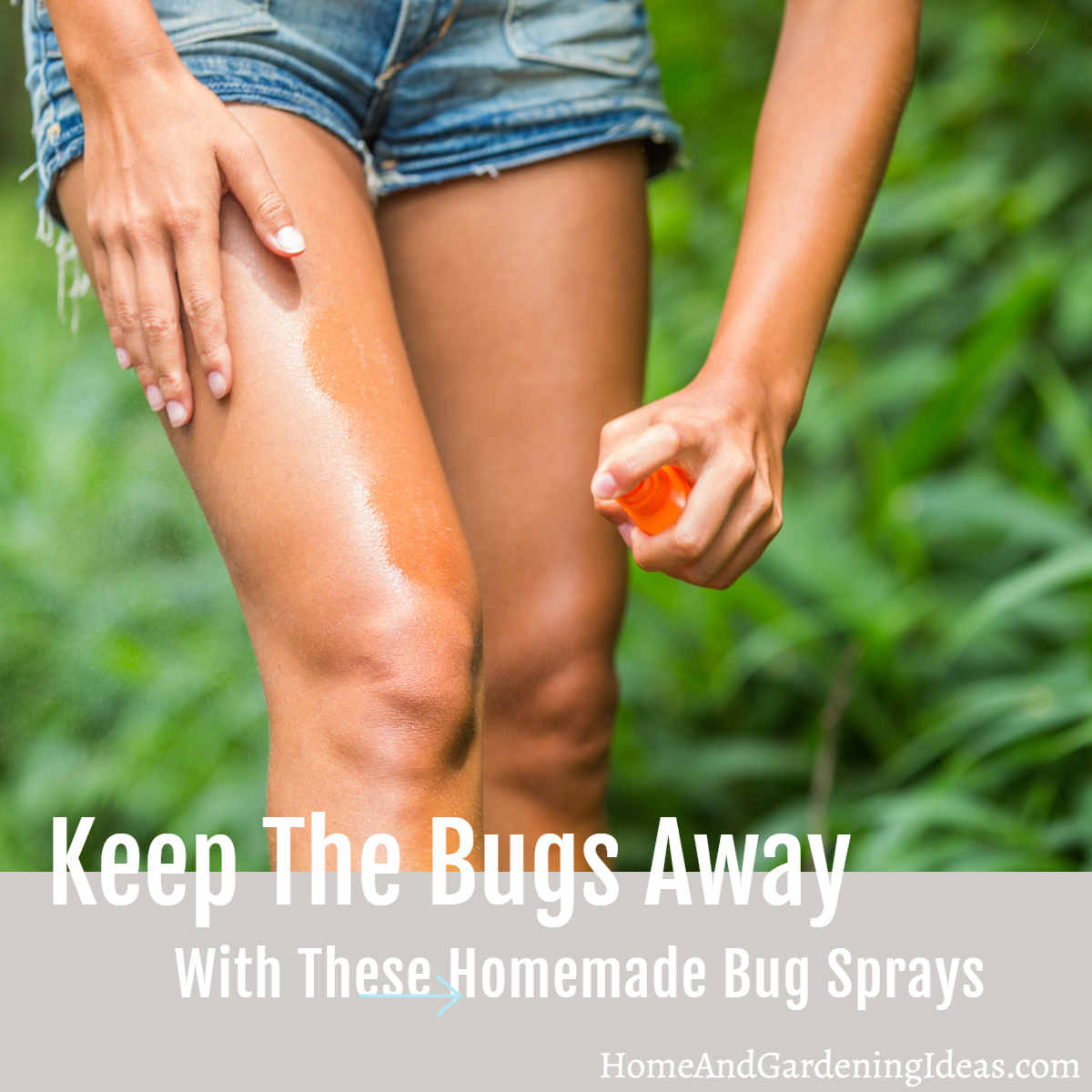 Spending time outside is a favorite pastime, but dealing with bugs that won't leave you alone is fun for no one. Everyone needs to have a recipe or two for homemade bug sprays that they can keep in diaper bags or on their back porches.
You might wonder what's wrong with just some regular bug spray from the store. Most of those sprays use nasty chemicals, such as DEET. DEET is present in most commercial insect repellents, and it has mixed reviews on its safety, especially for kids. Some concerns include causing brain changes in children, such as learning and memory issues.
Thankfully, with some household items, you can make inexpensively homemade bug spray that works just as effectively as the commercial sprays. Using all-natural sprays stops any dangerous side effects from those hazardous chemicals.
Why Should You Make Homemade Bug
As we mentioned above, DEET is a common ingredient, and it stands for N, N-diethyl-meta-toluamide. Who can say that? Not us, so we call it DEET instead. Aside from the potential brain changes in children, heavy exposure to DEET and other insecticides include:
Headaches

Memory loss

Weakness

Fatigue

Muscle and Joint Pain

Tremors

Shortness of Breath
These symptoms might not appear immediately after use, but it can appear months or years after exposure.
A Basic Homemade Bug Spray
This recipe is an excellent choice if you keep essential oils around the house. You can mix and match, so long as you use around 40 drops.
Ingredients:
½ cup witch hazel

½ cup apple cider vinegar

40 drops essential oils – citronella, tea tree, lemongrass, or eucalyptus

An 8-ounce glass spray bottle
Directions:
Mix all of the ingredients and pour into the 8-ounce glass spray bottle.

Spray over your body, but make sure to avoid your eyes and mouth!
An Herbal Bug Spray
Not everyone keeps essential oils in their home, so this recipe relies on fresh herbs.
Ingredients
2 TBSP Mint – Spearmint or Peppermint

6 TBSP Herbs – Catnip, Citronella, Lavender, Cloves – Finely Chopped

1 Cup Distilled Water

1 Cup Witch Hazel or Vodka

Spray Bottle
Directions
In a saucepan, bring one cup of water to a boil and add the herbs. Cover and cool completely. Then, strain out the herbs and squeeze out the extra water from the herbs.

Mix the infused water with the one cup of witch hazel or vodka. Store in the refrigerator and use as needed.
Vanilla Extract Bug Spray
Don't want to use any herbs or essential oils at all? GIve this vanilla extract bug spray a try.
Ingredients
5 ounces of baby oil

2 TSP Vanilla Extract

5 TBSP Distilled Water

Glass Jar
Directions
Put all of the ingredients into a glass jar and shake well. It is thick and needs to be rubbed on like a lotion.

To make a thinner spray, add 1 TBSP water and 1 TSP vanilla. Keep adding this until you find the consistency you want.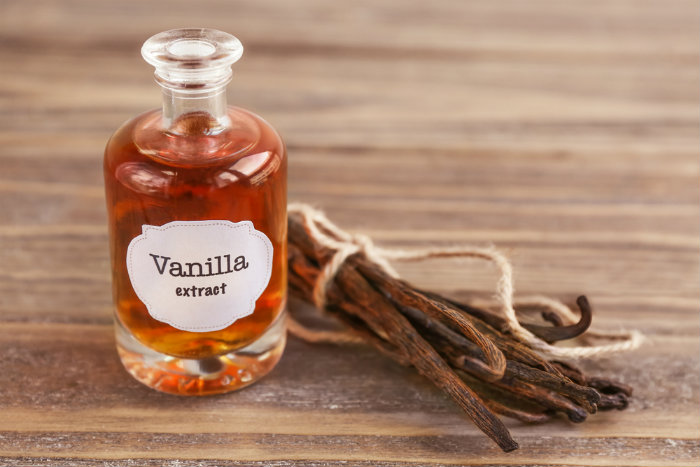 Basil Bug Spray
Basil is the quintessential summer herb that everyone loves, so why not use it to make a bug spray? Basil has a delicious smell that you'll like, but bugs will want to stay far away. Looking for more  benefits of basil you should read this article – 12 Impressive Uses for Basil You Didn't Know
Ingredients
½ Bundle of Fresh Basil, Chopped

½ Cup Distilled Water

½ Cup Vodka

Spray Bottle
Directions
In a small saucepan, bring the water to a boil and add the fresh basil. Let it boil for a minute. Then, remove from heat, cover and let steep for four hours.

Strain out the herbs and squeeze all the extra water from the herbs into the saucepan.

Pour the water into a spray bottle and add the vodka.

Shake and spray on your skin as needed.
Vinegar Tick and Insect Spray
So, this spray doesn't smell the best at all. Some say it stinks pretty bad when it's wet, but the smell does go away. It's the spray you want to use when you're going into a tick-infested area. The recipe is similar to the thieves herbs that were used during the Black Plague. Take a look! Looking for more benefits of apple cider vinegar you should read this article – 8 Health Benefits of Apple Cider Vinegar
Ingredients
One 32-ounce bottle of apple cider vinegar

2 TSP Dried Sage

2 TSP Rosemary

2 TSP Lavender

2 TSP Thyme

2 TSP Mint

Quart Size Glass Jar  
Directions
Put all of the herbs into the quart glass jar and fill with apple cider vinegar

Seal and store on the counter or somewhere that you'll see daily because you need to shake it each day for 2-3 weeks.

After you've let the herbs infuse into the vinegar, strain out the herbs and store the bug spray in glass bottles or tincture bottles. Keep in the refrigerator.

Before using, dilute half with water in the spray bottles and use as needed.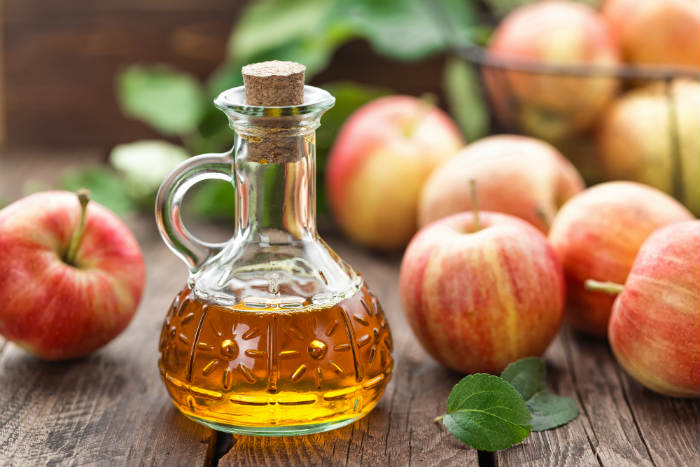 Simple Insect Repelling Tips
Here are a few ways to get rid of pesky bugs around you.
You can add vanilla extract to any bug spray to increase its effectiveness, or try rubbing vanilla extract on your skin.

Grow insect-repelling herbs in your yard or pots on your patio. Lavender, thyme, mint, and citronella all repel insects. You can put the containers around your seats and on your patio table to keep the bugs at bay without needing a spray.

You can rub fresh or dried leaves of mint plants over your skin to naturally repel insects. Try peppermint, spearmint, catnip, lemongrass, pennyroyal, or citronella.
Which Essential Oils Repel Bugs?
A lot of essential oils repel bugs as well as other properties. For example, you can use lemon eucalyptus for chest colds and repel mosquitos. You can adjust recipes for bug sprays with any of these listed essential oils, or learn how to make your recipe.
Catnip

Cedarwood Atlantica

Citronella

Geranium

Lavender

Lemon Eucalyptus

Patchouli

Tea Tree

Vetiver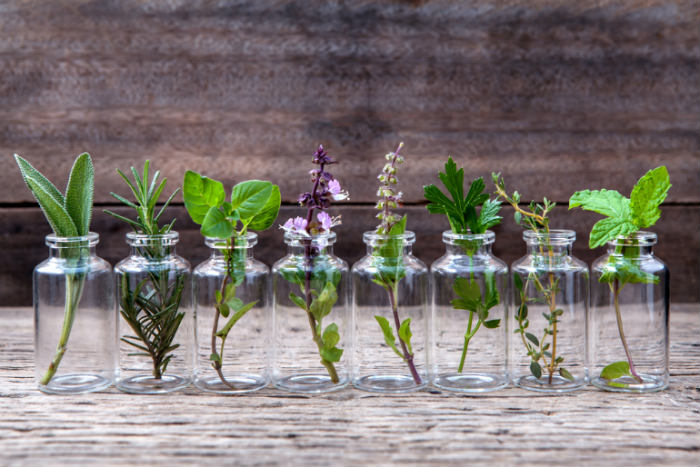 Can I Use These Recipes for Kids?
Yes! Any of the recipes that use fresh herbs or vanilla extract are safe for kids. Most bug sprays with essential oils are safe for kids. Be careful with eucalyptus – not lemon eucalyptus – and peppermint for kids under six years old as it can lead to respiratory problems. Pick different essential oils if you feel uncomfortable.