10 Simple Homemade Dog Treat Recipes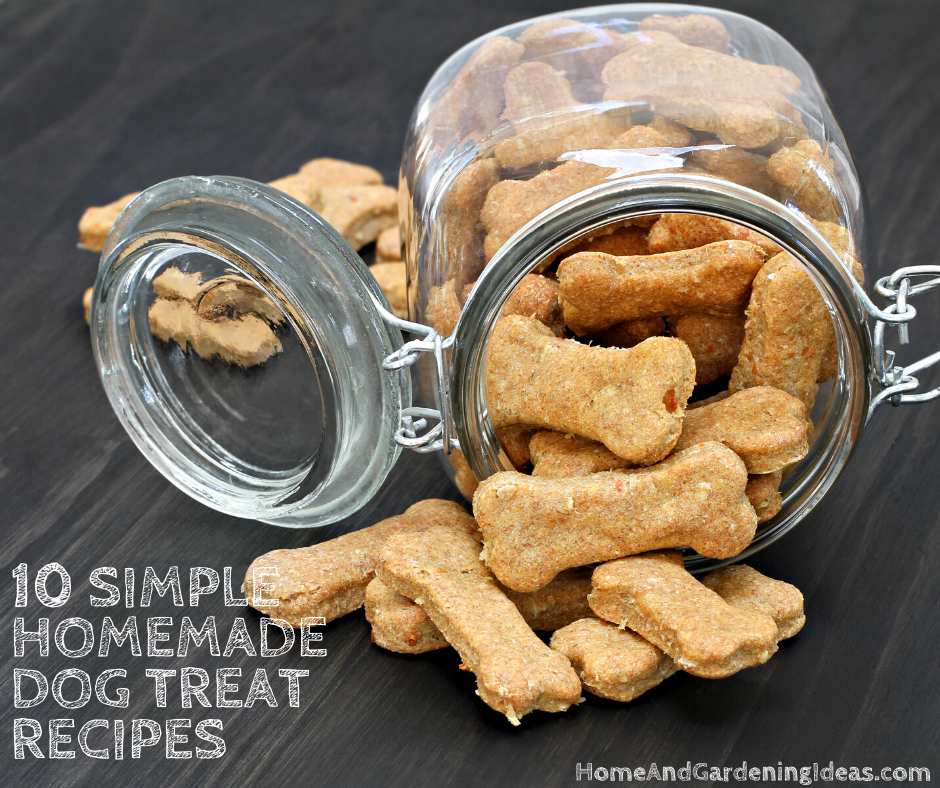 I am a self proclaimed 'dog person', I love them, I have them, I spoil them! I want my pups to get new toys, delicious treats and high quality food on a regular basis but none of that comes cheap, especially if you have more than one pooch. One thing that I do to keep my dogs spoiled and help to cut some costs is whip up delicious and simple homemade dog treats. Along with being a cost effective alternative, it is just so much better to know exactly what ingredients are in your dog's treats. 
No matter what type of treats you are preparing for your dog you will find it very handy (and fun) to have some dog-themed cookie cutters on hand. Bones, paw prints, peanuts, pumpkins, apples are just some shapes that will make your treats look extra special. Collect some airtight glass jars or containers to store the treats in, it won't take your dog long to recognize that amazing things come out of these jars. Homemade dog treats are also a very thoughtful gift idea for your friends and family members with pups. You can add ribbon and tags to jazz them up even more.
Here are 10 recipes that you can get started with and that will make your dog love you even more (if it's even possible). All of these recipes allow room for variations and substitutions so have fun and get creative!
Peanut Butter Dog Treats
What dog doesn't LOVE peanut butter? These treats only use a handful of ingredients including peanut butter, molasses, milk, flour and baking powder. They don't take long to make, and the recipe will give you about 40 medium sized cookies. If stored in an airtight container in the fridge these treats can last you up to two months.  View recipe for Peanut Butter Dog Treats
Strawberry Banana Dog Treats
These treats will keep your dog happy and provide them with an energy boost (if for some reason they need it). Strawberry might not be the first food that comes to mind when recalling your pup's favorite flavors, but I assure you they will love these. Combined with peanut butter, oats and bananas these treats are fruity and delicious. View recipe for Strawberry Banana Dog Treats
Frosty Breath Dog Treats
These are literally like a breath mint for your dog! Blend coconut oil, chicken broth, Greek yogurt, mint and parsley. Transfer the mixture to a mold, pop it in the freezer and you are done. Coconut oil has antibacterial properties and combined with the herbs which help to freshen this is a delicious and healthy treat for your dog. These cool treats will be especially enjoyed by your dog during the hot summer months. View recipe for Frosty Breath Dog Treats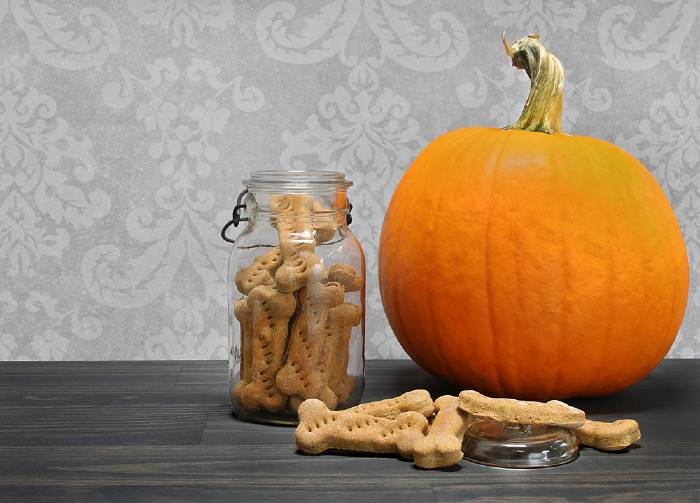 Pumpkin Dog Treats
You only need flour, eggs, peanut butter and pumpkin to make these scrumptious treats. This is a perfect way to make use of extra or leftover pumpkin around the holiday season. These cookies smell heavenly (even to humans), so imagine how good they will smell for your dog! This is a simple recipe that is sure to be a hit! View recipe for Pumpkin Dog Treats
Sweet Potato Dog Chews
Looking for something different than a cookie for your dog that is still a yummy treat? These sweet potato dog chews are perfect, they taste amazing and will entertain your dog at the same time. This all-natural recipe with only one ingredient is so easy to prepare. You can make them in the oven or with a dehydrator.  These chews are best stored in the fridge or freezer. Make a large batch at once and then store them for months to come. View recipe for Sweet Potato Dog Chews
Chewy Cheddar Puppy Puffs
Cheese is another top-ranking flavor for dogs and these treats make use of two types of cheese, so your pooch will be in cheese heaven! These super simple treats will leave you satisfied that you have prepared not only something delicious for your dog, but safe. The puffy texture of these treats is a nice change up from the regular cookie lineup for your dog. View recipe for Chewy Cheddar Puppy Puffs
Chicken & Parsley Dog Biscuits
These treats contain wholesome ingredients, are filling and delicious! The chicken flavor will have your dog stalking you while you are preparing them. This is also a great recipe if you have a bit of parsley left on hand and don't want it to go bad. You could most certainly substitute another herb if that's what you have – rosemary or sage for example. You could just as easily use beef broth instead of chicken if that's what's in your cupboard.  View recipe for Chicken & Parsley Dog Biscuits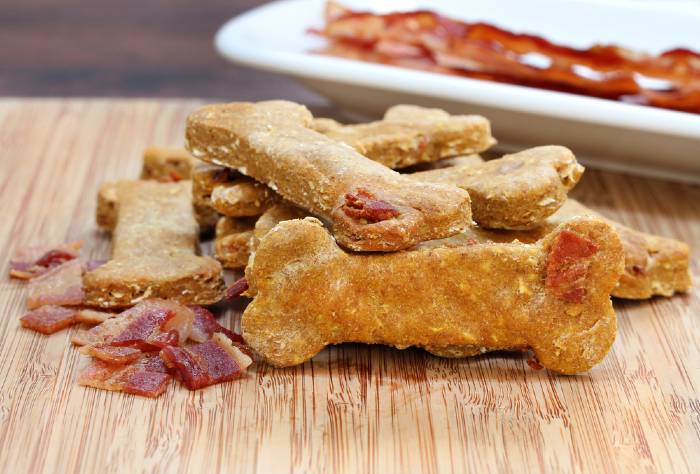 Bacon Biscuits
Such a clever recipe! Never know what to do with those bacon drippings after you cook up a delicious weekend breakfast? Well, now you have a practical reason to save it. Store those drippings in a mason jar until you are ready to whip up a batch of these bacon biscuits. Your dog will love you for it! Both the smell and the taste will have your dog's tail wagging like crazy! View recipe for Bacon Biscuits
Blueberry Yogurt Dog Treats
Blueberries are just as good for dogs as they are for humans. Some of the benefits blueberries offer include contributing to the prevention of cancer and heart disease as well as being loaded with antioxidants. The use of ground flaxseed and oats makes these treats super wholesome and provide a great texture for your dog to enjoy. You can also substitute blackberries, cranberries or raspberries in this recipe if you prefer. View recipe for Blueberry Yogurt Dog Treats
Apple Pie Puppy Treats
These treats smell and taste amazing! This is such a great recipe to keep on hand, especially during apple season. Although you are able to make this year-round, it is great to have a purpose for excess applesauce or leftover apples if you have them. You can play with the consistency of this recipe depending on your preference, your dogs or what type of apple you are using. View recipe for Apple Pie Puppy Treats