7 Creative Wood Pallet Fence Ideas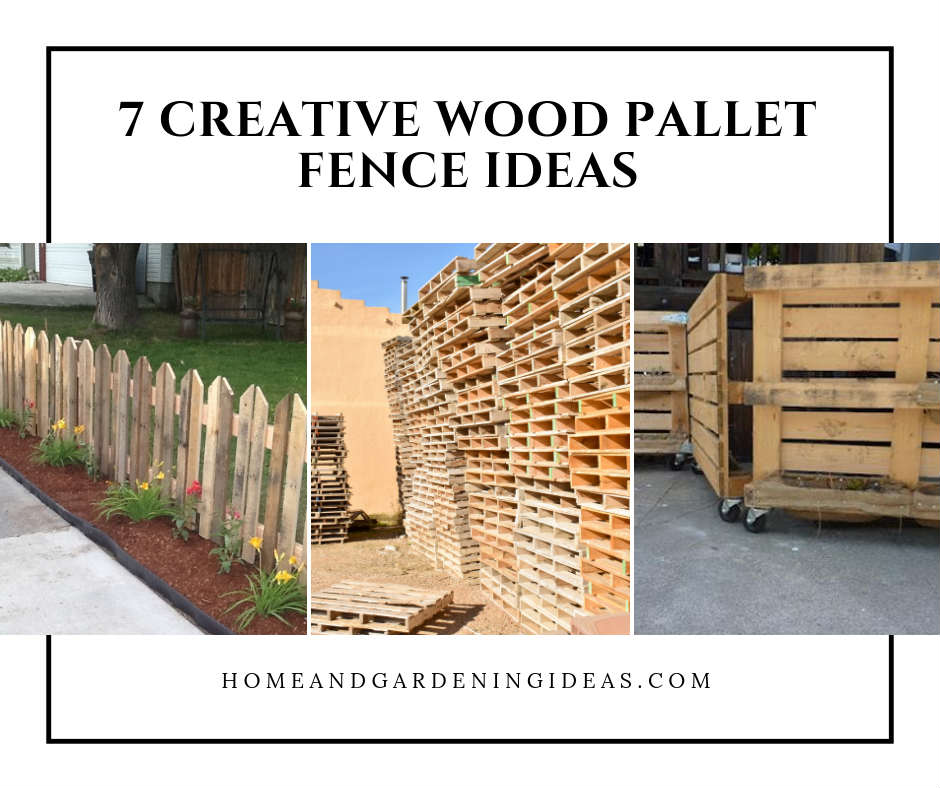 Fencing in your property is a great idea, but it costs as much as your arm and a leg. If you have chickens you want to keep in your yard or children you want to keep in a set area, having a fence is a great tool. You can try some cheaper methods, like using chicken wire, but wood pallets make a practical, affordable fence.
Thanks to the recent love of wooden pallets, you can find so many great wood pallet fence ideas. Pinterest and the internet are full of ideas and inspiration for you. Always remember that you want to use heat treated pallets, which should have an "HT" stamp on the side. If you get a pallet without a stamp, chances are they're chemically treated, and you don't want to use those ones. Those chemicals might have chemicals that would wash into your garden causing issues.
Pros and Cons of Pallet Fence
Are you debating the pros and cons of building a pallet fence? For many people, these are the best choice because they save you money and work in many situations. However, there are some cons that you need to consider before making a decision, including how much work you need to put into the fence.
PROS
CONS

Cheap and affordable!

Easy to build and put together, even for a novice

Sturdier than it might seem

You can easily move and reconfigure it.

Some animals can hop over the fence.

Not as nice-looking as other fences.

It's DIY, and some people don't like projects.

Vulnerable to termites and pests

Small rodents will be able to get through.
Wood Pallet Fence Ideas
Building a pallet fence is easier than you might imagine. It's a good project for a newbie who doesn't have much experience with building. Here are some ideas that you might want to try, and some of these are attractive and useful.
Who said pallet fences have to be ugly? Turn your pallet fence into a classic picket fence, and you could even paint it white. You'll have the classic, American white-picket fence for cheap. This fence is great around a small front yard, keeping your kids in the area away from the road. To make a pallet picket fence, you will need to dismantle the pallets and cut the end at 45-degree angles.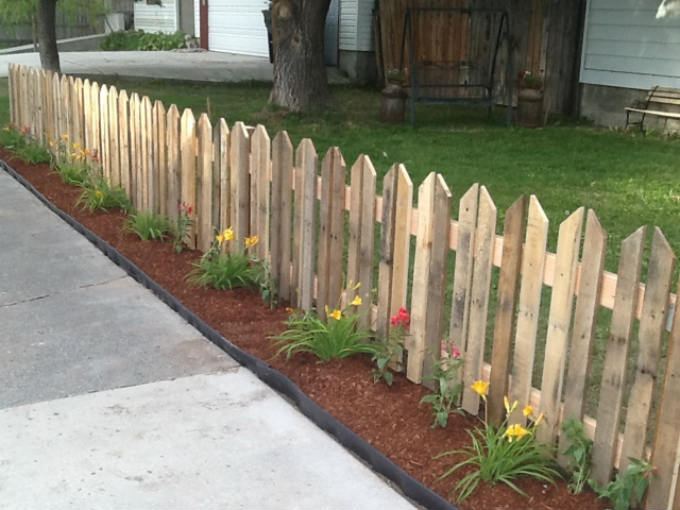 If you want a basic fence that will hold in your dogs or chickens, this project is for you. This fence is a great choice for a garden fence as well or as a simple property border. You will need to use a sledgehammer to pound 4×4 wooden posts into the ground. You must measure the right distance between each post, allowing you to slip the wooden pallet over the top. These posts hold the pallets upright like a fence.
The creator of this fence, A Life of Heritage, creates a pallet fence that holds in their goats. She also uses 4×4 posts or steel posts every 2 or 3 pallets. You'll screw together the pallets. This fence uses two pallets stacked on top of each other, ensuring the fence is tall enough to keep in your livestock. You'll want to place gates in the fence and latch to keep kids out and livestock in.
Wooden privacy fences cost a fortune, and one solution is to make a pallet privacy fence. This fence is great for your backyard patio and backyards to stop prying eyes from watching your family and your kids. You can add things such as shelves and boxes on this fence if you want to hang plants or other trinkets.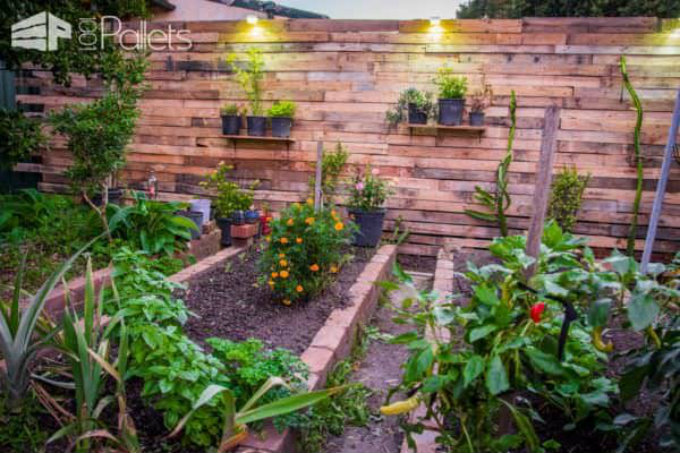 Pallet fences don't have to be ugly. Instead, use the top of the pallets as a flower garden. Plant herbs and flowers, especially trailing ones, on the top. Not only does this make a practical fence for your garden or patio, but it also gives you additional places to plant flowers, herbs, and maybe even some vegetables. Make sure that you pick heat treated pallets for sure to avoid chemicals in the pallets.
Fairy Wings and Dinosaurs offers a tutorial to make these garden fences with built-in trellises. Some plants, such as peas and runner beans, love to grow up fences. You can plant the seeds in the garden boxes include in the garden fence, then you can watch the vines grow up the fence. This fence will work great in your garden or around your patio.
This is a great project if you want a movable fence for planting flowers and herbs. To make this project, you will need to use industrial hinges because they're strong and last forever. You can adapt the size of the fence, moving it from place to place as you need. It would be best for around your garden because animals would be able to easily escape underneath.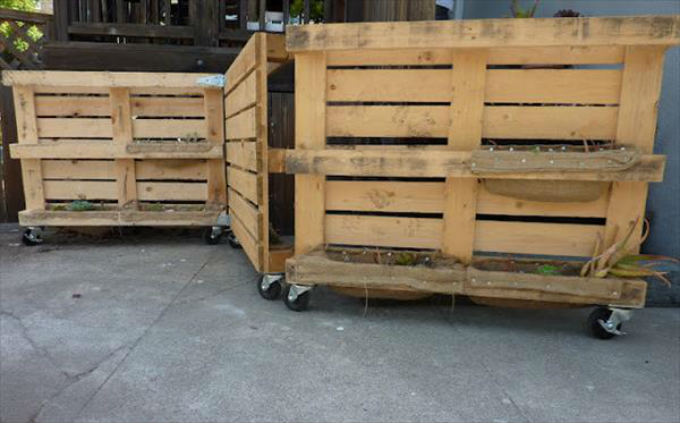 4 Tips for Building a Pallet Fence
Love these ideas? Now it's time to get to work! Here are a few tips for a successful project.
Make sure you use either 3" bolts or large roofing nails to put the pallets together. These are the most secure choices.

Most recommendations are to use stakes or posts and put them into the ground. Then, you slide the pallets over the stakes. However, this method does cost more because you have to buy the posts or stakes. It comes with the benefit of being even easier to put together.

Don't forget that you do need to make a door for your pallet fence. To make a simple door, just take the final pallet and place hinges on one side of the pallet. On the other side, you need a latch to keep the door closed securely.

You might have to predator-proof your pallet fence because rodents can enter the gaps. The best way to do this is staple chicken wire to the inside of the pallet fence.