20 DIY Garage Storage and Organization Ideas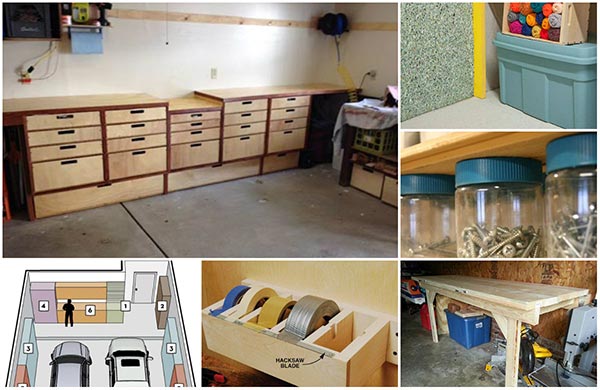 The garage is one of the least used rooms in my house i just store the car there and sort of forget about it. But it is also my dumping room everything get put in the garage when i am not using it :).
So this summer i decided to get searching for ideas for storage and for organization to help me sort out my garage. Being organized saves you money, because if you can't find your stuff when you need it, you will go out and buy another one… Below are 20 Diy garage storage and organization ideas to help me get started.
Screw Organizing
The lids are screwed into the wooden shelf that sits above the work top and then you simply fill your jars with whatever small you need storing and screw the jar onto the mounted lid. Out of the way and pretty organized. Gotta love that! Source: chezlarsson.com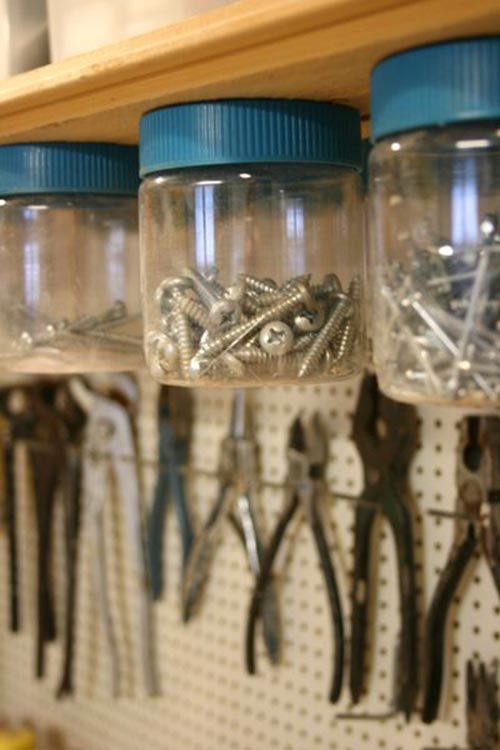 Diy Storage
The shelves didn't fit the stuff we needed to store and things got piled up Mr. DIY took these shelves apart and reused the wood to make another shelf that fit our stuff.  Source: diydesignfanatic.com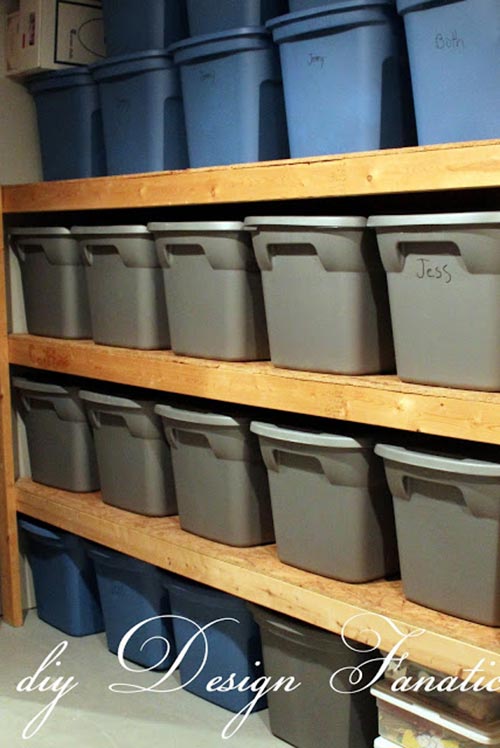 Lattice Rack
Plastic lattice works well for storing long lengths of miscellaneous pipe, trim, flashing and conduit. Source: familyhandyman.com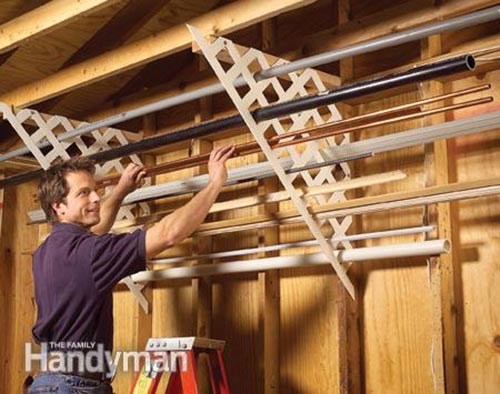 6 Garage Zones for Maximum Organization
The garage is one of the most under-utilized storage spaces in many homes. We usually think of the garage as a place to park our cars and store bulky items, with not much thought to what goes where. But the garage has the potential to be so much more! Source: easyclosets.com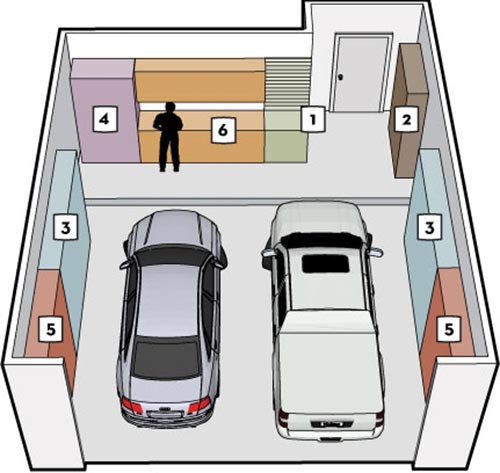 Folding Garage Workbench
This workbench is super creative and versatile, and what makes it a great choice for those who want to maximize their garage storage space. Source: ana-white.com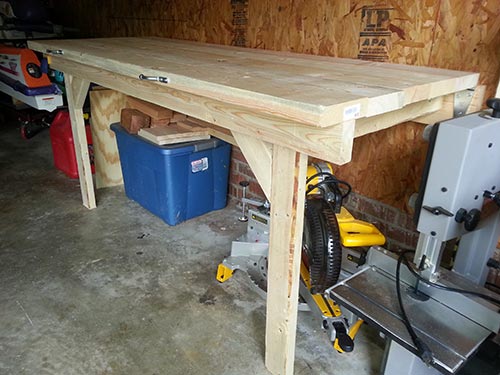 DIY Garage Storage Cabinets
Amazing, huge, sturdy, garage locker storage that you can make yourself. Source: sugarbeecrafts.com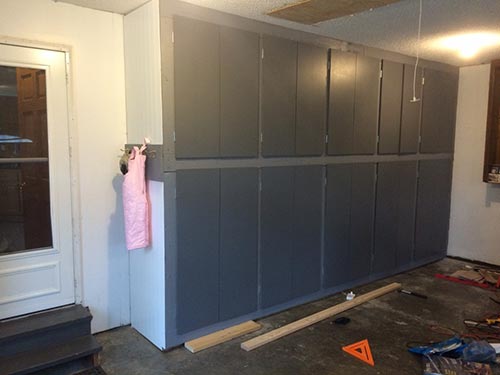 Out-Of-The-Way Ladder Storage
Build two identical brackets, then screw them both to ceiling joists with 1/4 x 2-in. lag screws. Space the brackets so the ladder will extend at least 1 ft. beyond the end of each one. Source: familyhandyman.com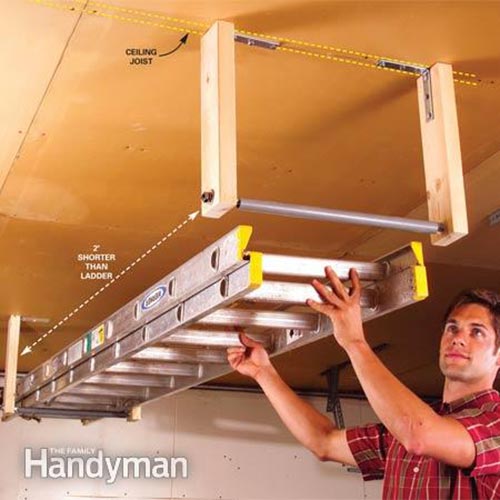 Repurposed Hanging Shoe Rack
Hanging shoe racks have many uses, i have used them behind cubards doors for much needed room, But they are ideas for the garage to keep all those small items that you dont wont lying around the floor. Source: hisugarplumsblog.com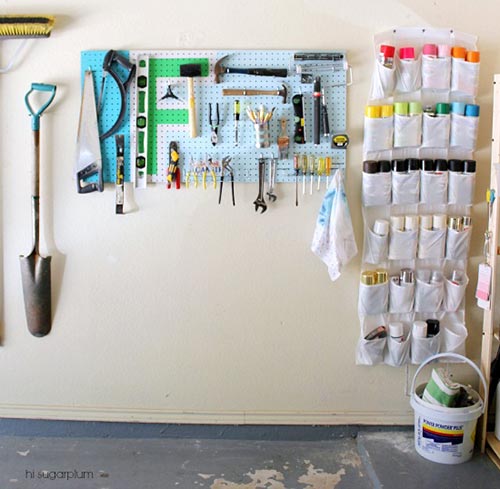 Easy Garage Storage and Bench
This instructable will show how to build a cheap and simple garage storage and workbench out of plywood that will allow you to store all of your tools or gear safely while doubling as a great work bench surface. Source: instructables.com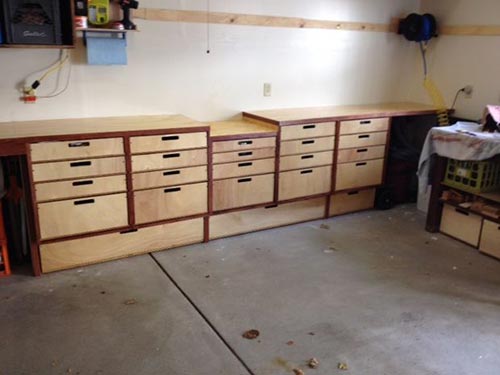 Overhead Garage Storage
This project was born out of desperation for some way to organize our garage. It is not difficult to build, and it went pretty quickly with two of us. Source: ana-white.com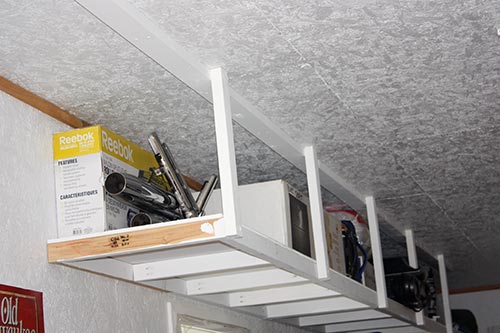 Page 2 of 2