12 Fall Camping Tips You Must Remember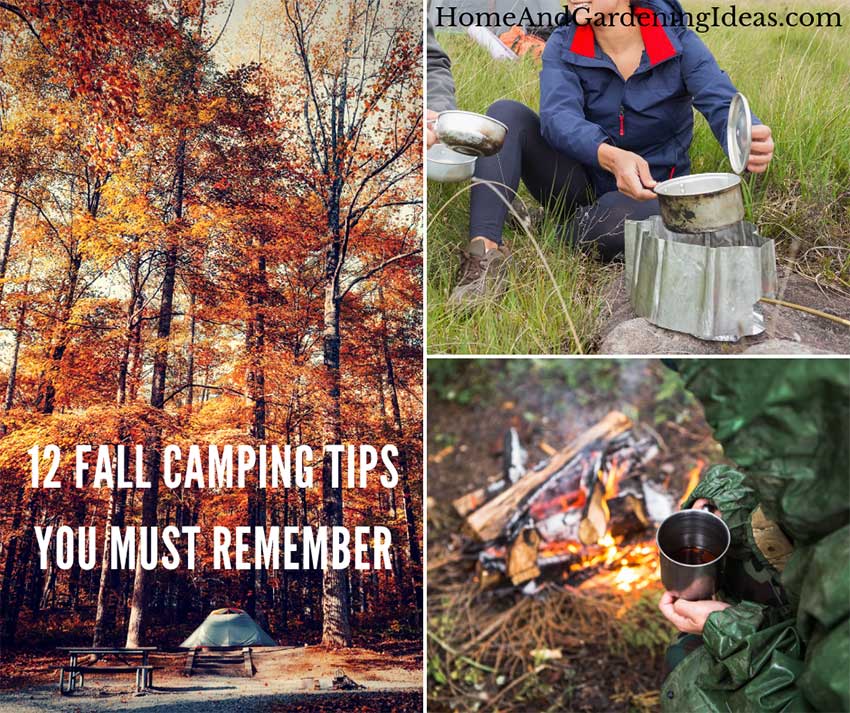 The crisp autumn air and changing leaves mean that it's the perfect time for fall camping. Camping in the fall is beautiful. Sunsets have a beautiful, golden hue, parks are less occupied, and the bugs aren't out in full force. Whether you are backpacking alone or taking your family to a state park, camping this fall is a fantastic idea.
If you're ready to have a fantastic trip, here are some tips to make your fall camping trip a success.
Have Rain and Wind Coverage
Fall typically means more rain, so you need to be prepared. Try setting your tent up in an area that is protected; it'll ensure you sleep better. Stake your tent properly, and make sure you have a rain fly. Rain flies also help with winds, but most importantly, it helps with drainage and prevents the rain from soaking your tent and belongings.
You will need more layers in autumn. The temperature can vary wildly. Bring layers of clothing in different fabrics like fleece and wool, along with synthetic materials that wick away sweat and rain. Make sure you bring long underwear, a hat, gloves, a thick jacket, and a water-resistant outer layer. Staying dry is important and vital to staying comfortable.
Make sure you bring an insulated sweater. You might think a down jacket isn't necessary, but autumn temperatures can drop into the teens in some parts of the country!
Wool socks might be your best friend! They are perfect for chilly mornings or evenings. Wearing a pair of wool socks will keep your feet toasty. You could even bring some down-filled booties!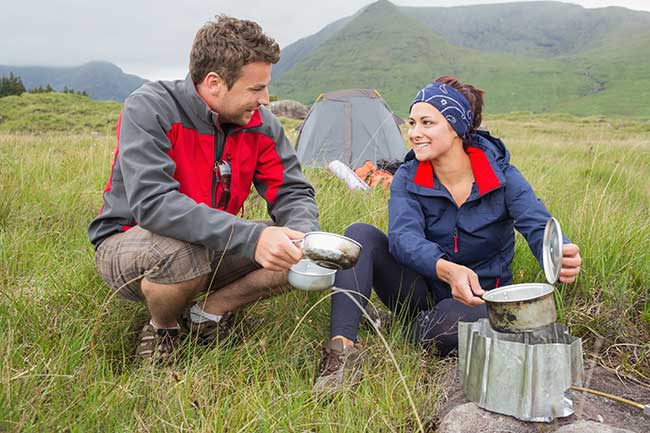 A warm, hearty meal can help full your body and replenish your muscles. A warm meal can help impact your mental state in the morning, preparing you for the day ahead. At night, warm food helps you get through a cold night.
Sure, you want to have water and basic, cold beverages, but hot beverages are the perfect pairing for fall camping. A hot cup of coffee, tea, or hot chocolates warms up your belly, and it makes the morning time a little less chilly. Drink a cup of hot tea before bedtime! So, don't forget to stock up on tea bags and hot cocoa packets!
Plan for Longer Cooking Times
When the temperatures are cooler, it will take longer to boil water and to cook meals. Make sure you plan ahead so you aren't ravenous by the time the food is finished. Also, make sure you bring extra firewood to account for extra cooking time! The extra firewood is necessary for nighttime heat as well.
Bring Extra Sleeping Gear
No one wants to wake up at 4 am freezing! Make sure you bring an extra quilt or blanket. You might want to use a higher R-value mattress as well. Sleeping cold is never fun, so be prepared.
Make sure you are using the right sleeping bag. The sleeping bag you used for summertime won't cut it now. You want a sleeping bag rated between 0 F and 20 F during the autumn months, and make sure you still pack those blankets!
A sleeping pad is a fantastic take-along item as well. Make sure you pick a thick, self-inflating foam pad. It provides cushioning, but the most important reason to bring a sleeping pad is to provide insulation from the cold ground.
HACK: Instead of using a sleeping pad, grab a set of foam tiles. They make a fantastic tent floor while still being soft and warm. It also helps to even out the ground!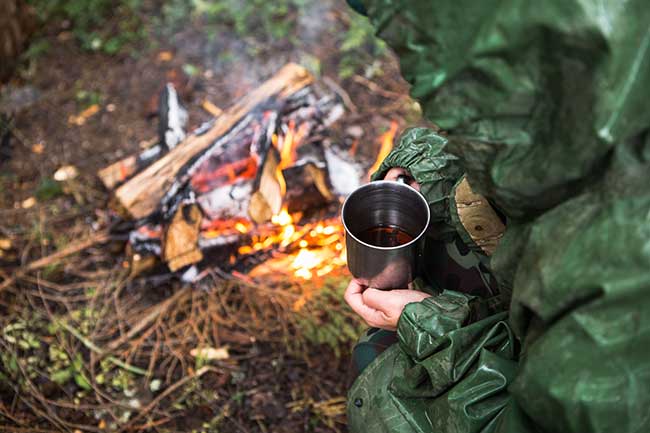 Campfires and camping go hand-in-hand. There is no way to camp without enjoying a fire. When you camp in the fall, a campfire is even more important especially if you don't want to go to bed at 7pm when the temperatures start to drop. A campfire is the difference between an 8 pm bedtime and an 11 pm bedtime! You stay toasty warm, enjoy the nighttime sounds, and have fun with friends.
Bring Hand and Foot Warmers
You never know the temperature in the fall! Some days, it's nice and 50 F! Other days, you're lucky if you get above freezing. Autumn brings unpredictable temperatures. Hand and foot warmers slip into your boots or into your jacket pocket. They help to take away some of that chill during the fall.
Bring Bug Spray and Sunscreen
The bugs may not be out in strong numbers like they are in the summer, but you can expect some bugs to be around. Bring your favorite insect repellent to protect yourself from gnats and mosquitoes!
HACK: Don't want to use an insect repellant? Try burning bundles of sage. It has a pleasant scent, but it stops the bugs from biting.
The sun doesn't care that the calendar switches over to fall months! You can still get a sunburn as the temperatures get older. Make sure you bring your sunscreen, so you don't end up miserable with a sunburn.  
A tarp can save the day! You can hang a tarp over your eating area in case Mother Nature decides to rain during dinner. You can use a tarp as a windscreen for your tent.
Watch the Weather Forecast
It's always helpful to know the weather ahead of time, especially the expected temperatures. You're bringing extra layers anyway because you like to be prepared, but knowing the weather forecast ahead of time lets you feel prepared. Watch the forecast frequently while camping because the weather changes quickly in autumn!
Remember There are Fewer Daylight Hours
As much as autumn is beautiful, the days become shorter. You will get less time with the sun during fall camping, so you have to plan your arrival at your campsite correctly. You want to arrive early enough that you have enough sunlight to do everything you need. Arriving just before dark isn't a good idea, but if you have to, make sure you have a headlamp and lanterns to light up the campsite.
Pinterest Image