How to Crochet Adult Socks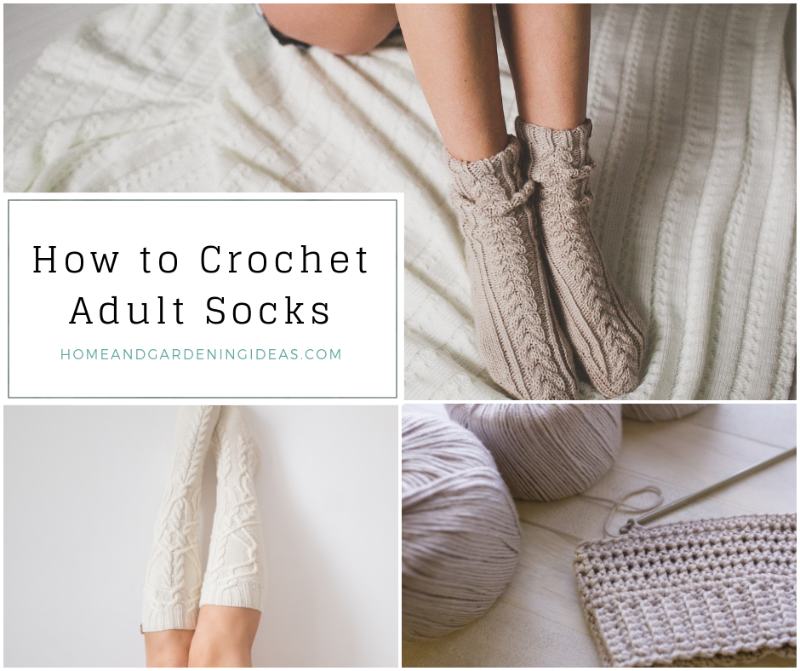 Crocheting is a great hobby that helps you relax and make practical items at the same time. Crocheted goods, like socks and blankets, make fantastic gifts. In wintertime, everyone loves cozy socks, and learning how to crochet adult socks is one of the easiest things you can make. Many sock crochet projects are great for beginners.
If you're nervous about learning how to crochet socks, here are some tips for you to remember.
How to Crochet Adult Socks 
Part 1
How to Crochet Adult Socks 
Part 2
Tips for Crocheting Socks
Technically, you could use any type of yarn to make socks, but you'll have a better experience if you use a thinner yarn. Check the pattern that you select to see what size yarn they recommend. Fingering or DK yarns are good yarn picks for socks.
In general, yarn made with thicker, chunky yarn is better for hiking or outside conditions, or when you want to cuddle up by the fire. Fine, thinner yarn is better for everyday socks. If you want to make socks that you can wear instead of store-bought yarn, go with a thinner choice.
Since knitted socks are so popular, crocheters have tons of options now. You can find specific "sock" yarn in a variety of colors and materials.
Always make sure you match your hook to your yarn size. You don't need a large hook to crochet socks. If you pick a Fingering or DK yarn, you might use an F, G, or H yarn. Read the label on the yarn and your pattern.
Learn the Common Stitches Used to Make Crocheted Socks
There are a few stitches you need to know to make crocheted socks.
CH – Chain
SL ST – Slip Stitch
SC – Single Crochet
HDC – Half Double Crochet
Most crochet patterns for socks start at the top. You start off by making a chain in the amount indicated in the pattern. Then, you connect the last chain stitch to the first and work in the round, building the sock top downwards. The last thing you'll make is the toe.
Pay Attention at the Heel
The heel is where most crocheters will mess up socks. When you make the heel, you will work on just one side of the project, creating a triangle, slowly decreasing to just one remaining stitch. Then, you will go back to the other half of the unfinished project, connect yarn, and work from there.
It's quite important that you pay attention to the stitch count. You need to count after every row to make sure you're decreasing properly. Messing up stitches here is easy. Take it slow and count your stitches!
Most homemade socks are knitted because they have more stretch, making them easier to fit. Crocheted socks work just as great, but it has less stretch. That means you need to try it on as you go.
Pattern developers typically develop and create the stretch in the pattern, but you need to try your socks on as you go. The heel creates the biggest problem, so try it on often. See how it feels and add more stitches as you need to create the perfect fit.
Check out a list of crochet sock patterns and give them a try. You'll end up addicted to making socks, which isn't a bad thing at all.