9 Creative Chicken Coop Designs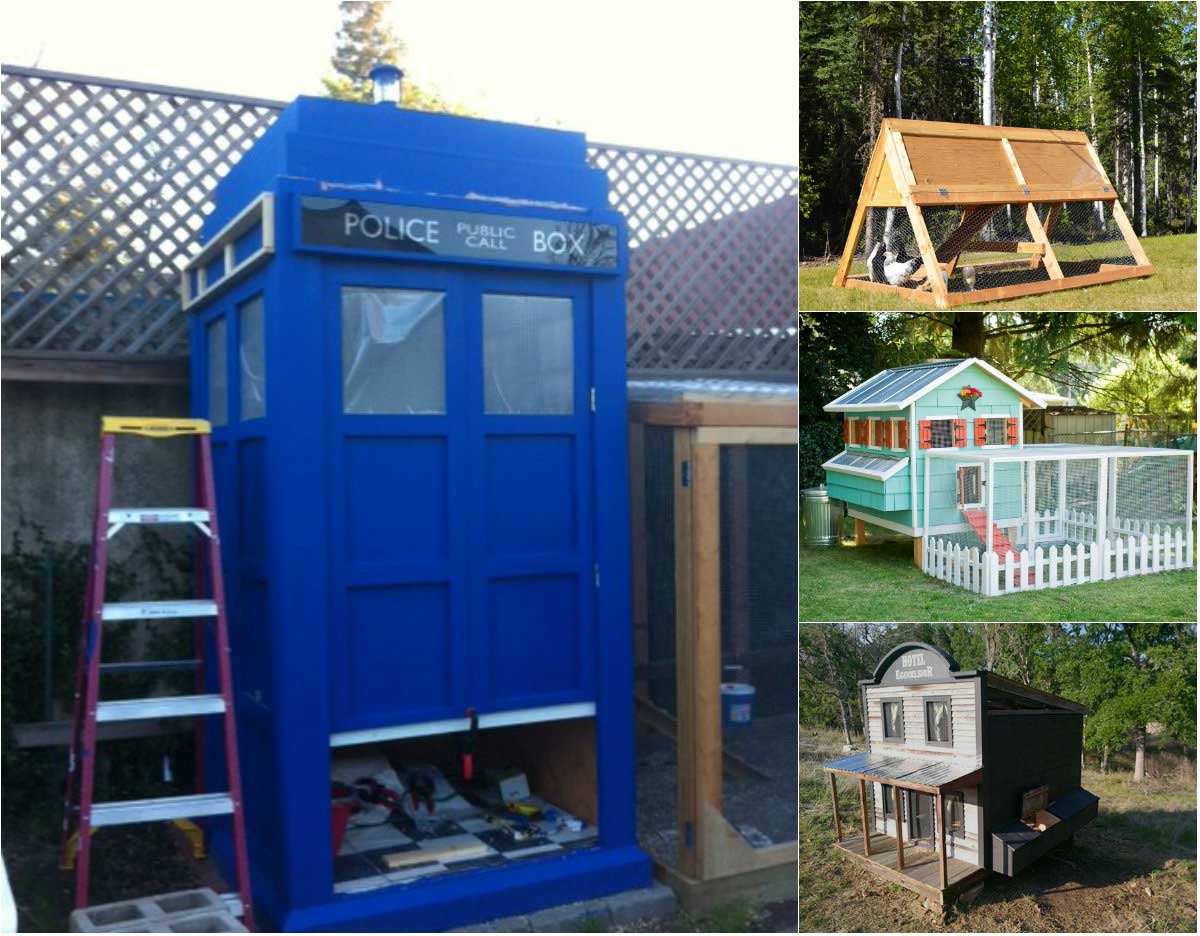 Raising backyard chickens is growing in popularity. More and more people are venturing into the work of chicken raising. Your chicken coop doesn't have to be a boring shed! There is no reason that your chicken coop cannot express your creative side. It should match your family and your personality. That means the options are endless.
A chicken coop should never be an eyesore, especially if you live with neighbors. If you want to keep everyone happy, keeping an attractive chicken coop is the first step. Pesky neighbors can't complain as much when your chicken coop looks nicer than their shed, right?
If you need a bit of inspiration, here are some of the most creative chicken coop designs and ideas. Use them as a jumping point to create the perfect coop for you!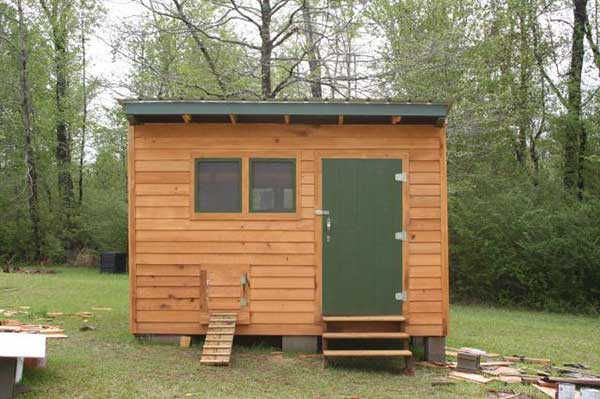 For those who want to build their chicken coop from the ground up, the Sunrise Chicks Coop offers full plans along with very detailed pictures. It is perfect for those who want to venture into the world of coop building, but still, want to have their hands held a bit. The pictures make everything very clear and understandable.
The Sunrise Chickens Coop is 12 feet x 10 feet and can hold up to 30 chickens. It is ideal for someone who has more space on their property. You can spice it up by painting the outside and adding window boxes with flowers. See the plans HERE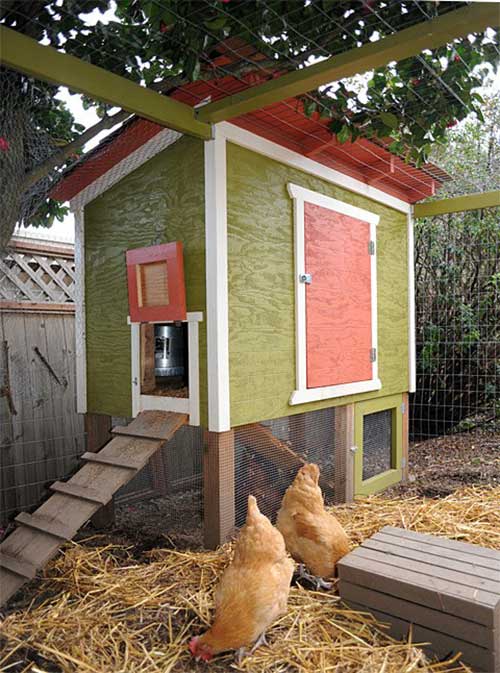 Urbanites who want chickens have special needs to consider. So, the chicken coop design you select has to follow those needs. The Tangled Nest offers a simple, PDF plan to build the coop yourself. They also offer plenty of detailed plans, allowing you to understand each step and process.
The dimensions of this coop aren't huge! It measures 3 feet x 6 feet. As you might imagine, the Urban Chicken Coop is ideal for someone with five chickens or less. It isn't ideal for someone who wants a large flock or plans to homestead! See the plans HERE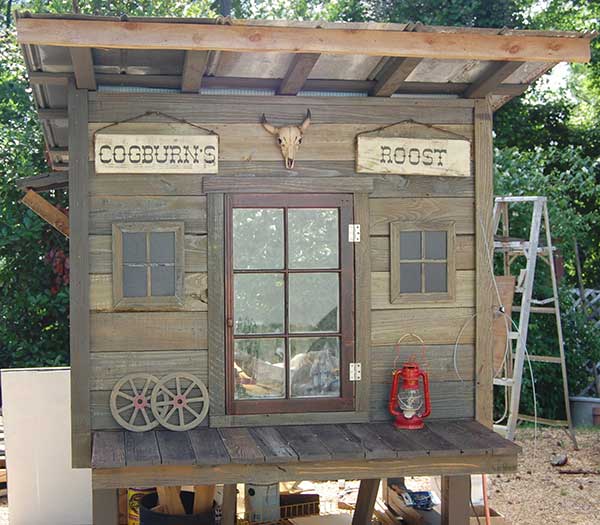 Who doesn't love a chicken coop that looks like it came out of the old west? All of the coop was created with pallets, including the walls and roof framing. That means you can make this coop for very cheap, if not free! The creator doesn't offer full plans, but he does show you step by step pictures of his creation. You could easily take this design and make it your own. See the plans HERE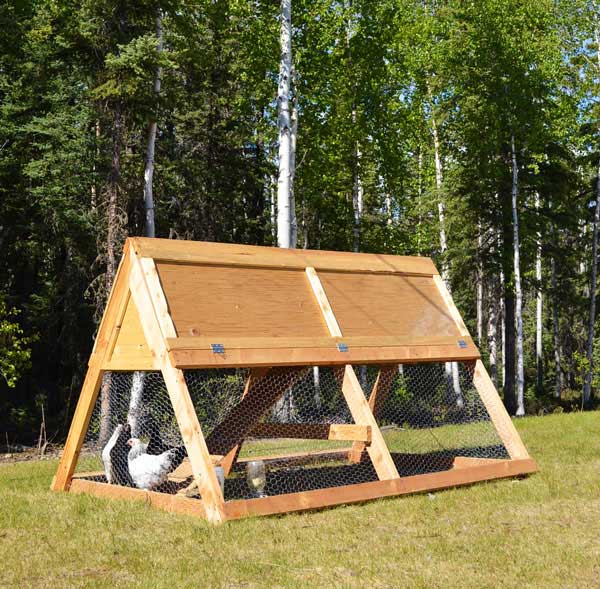 A-Frame Coops are becoming more popular now than ever before. You can successfully build this coop for less than $100; that's impressive! The chickens roost on the top portion of the coop, while they peck at the grass on the bottom portion. Chickens get plenty of sunlight and shade with these designs.
The plans are simple to understand and follow. You can opt to add wheels to the coop if you want. Wheels let you move the coop from place to place, so there is always a supply of fresh grass, which will decrease your food costs. A movable chicken coop also allows you to pick the chickens in areas of your yard that might need to be fertilized. This coop can hold about five to six chickens. See the plans HERE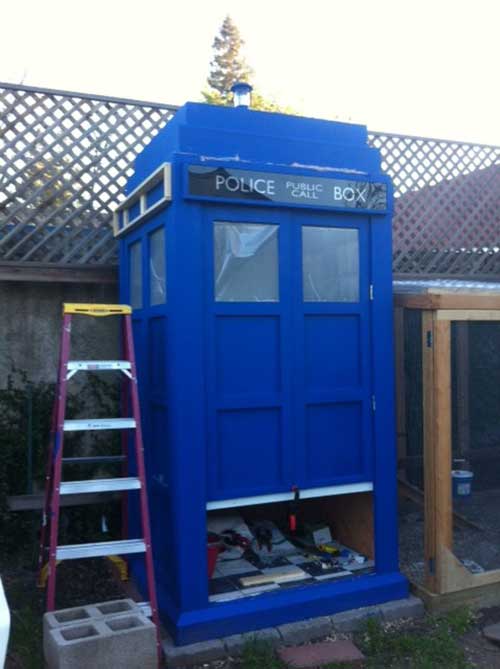 Yes, you read that right. Who wouldn't want a Tardis chicken coop in their backyard? The design features a 16 square feet chicken coop, ideal for about four to five chickens, depending on the breed. It also includes in the design a 40 square feet run.
The creator of the Tardis Chicken Coop includes several pictures to make the process easier for you. This coop is perfect if you are a fan of Doctor Who! It won't take you any longer to build this coop than the other ones on the list! See the plans HERE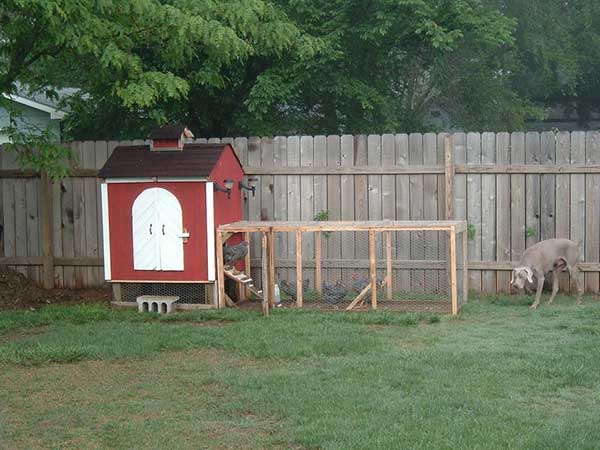 I love the simple design offered by the Backyard Chicken Coop. It would be so easy to jazz it up with different paint colors and exterior decoration. The coop holds up to five chickens, depending on the breed. Best of all, it should cost you less than $75 to make this coop. That is impressive! See the plans HERE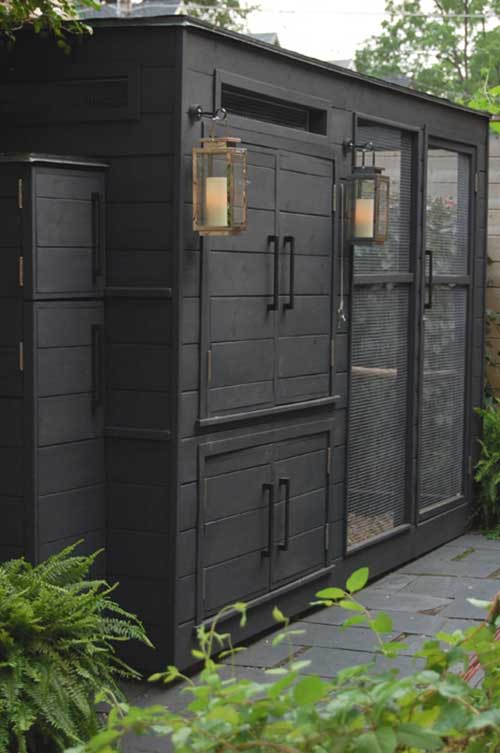 If you want to impress your neighbors, this chicken coop is for you. It offers space for you to store your supplies, an outside area for the chickens and plenty of nesting space. However, the only downside is that the creator doesn't offer plans. You have to use your skills to create a coop that looks similar. There are plenty of pictures of the building process and the interior that allows you to create the plans yourself if you want. See the plans HERE
The White Picket Fence Coop is quaint and adorable. There are no other words to describe it! Technically, the coop is large enough to hold up to 12 chickens. There are detailed plans that let you create the coop with ease. The painted shingles on the outside of the coop make the design. Pick a color that you love and will match your house! You could even add a real white picket fence around the run if you wanted. See the plans HERE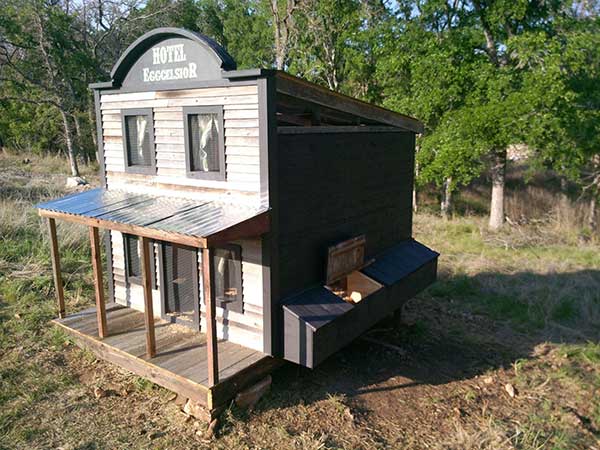 Creativity is the name of the game with the Chicken Hotel. The creator went all out with the theme, creating a coop for up to six chickens. It looks like the coop came out of the Wild Wild West! The base is 6 feet x 10 feet, so you might be able to house more chickens of a smaller breed. If you love old western movies, you'll love this coop! See the plans HERE
Before you design or select a chicken coop, make sure that you determine your flock size. Chickens need a specific amount of space. You don't want to overcrowd your chickens. They need space to move around comfortably. Building a coop that is too small for the flock you have could pose health hazards, like ventilation issues. Make sure that you also include space outside for your chickens. Outside time is crucial for their well-being!