15 DIY Platform Bed Ideas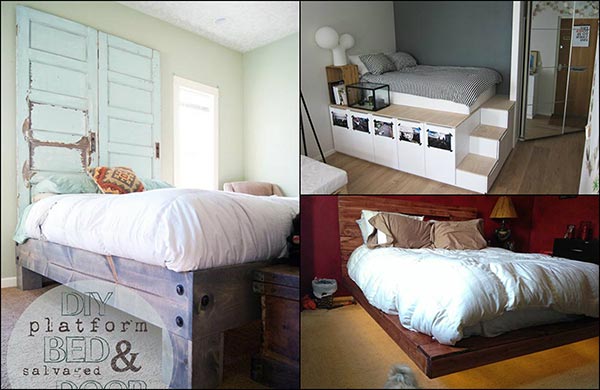 what makes a platform bed perfect for your home?
When you are looking for a new bed for you home there are normally so many options to choose from, there are beds that fold up like a Murphy bed for example, beds that use a mattress/box spring, and if you are into it there are even waterbeds :). Not everyone is looking to buy these types of beds and may be looking for something that little bit different. Maybe you are trying to find a bed that will benefit both yourself and your home. Platform beds offer an interesting and unique design in the way of beds.
Platform beds make ideal beds for people looking for extra storage underneath or just for that extra bit of style that the low platform beds offer. Below is a list of 15 platform beds that you can make at home and customize to suit your needs.. Let me know in the comments below which one is your favorite.
This is a VERY EASY piece to build so it is perfect if you are a beginner!  This plan is for a full size bed but it is very easy to adjust the measurements to accommodate another size. Here's how they built it! –  shanty-2-chic.com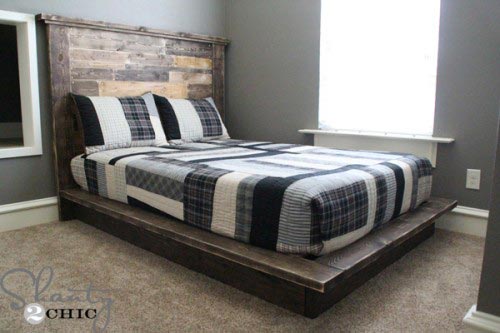 Expedit Queen Platform bed
If you are looking to make a really custom bed this is for you, This bed is a IKEA hack witch means you use IKEA products and make them into something they was not designed to be used for. See how to build it here – ikeahackers.net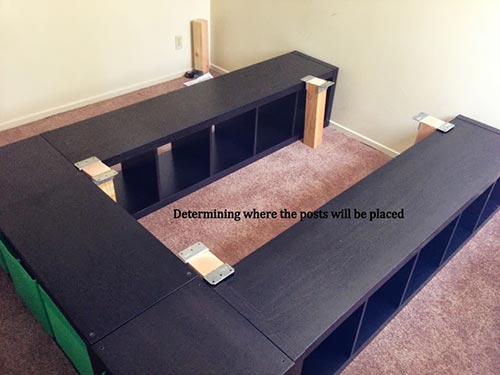 Platform Bed with Storage Baskets
This is such a simple way to make extra storage under your bed and to keep it all organised. See this bed here – alwaysrooney.com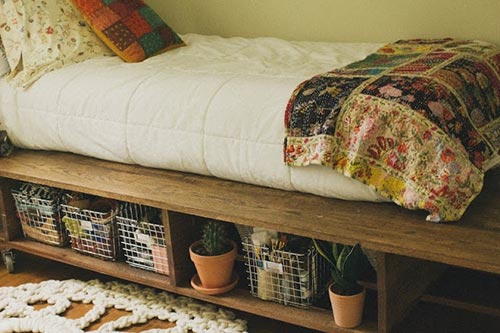 DIY Platform Bed with Floating Nightstands
Love this DIY platform bed mainly because it looks fantastic but also very practical mainly because it has a floating nightstand, See how to make this bed here –instructables.com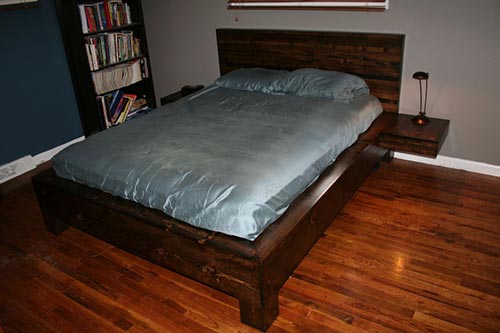 DIY Floating Bed Frame With LED Lighting 
This has to be one of the best looking beds out there with  that led lighting just looks like it costs a small fortune. See how to make your own floating bed here – imgur.com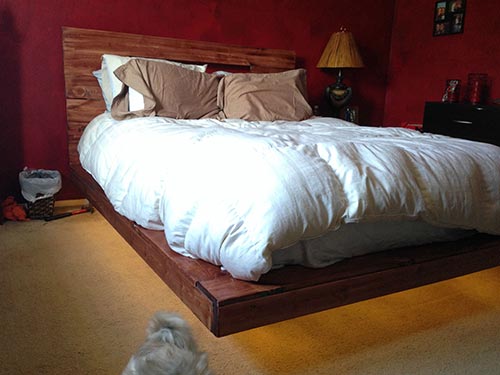 Simple Is Better: A Diy Modern Bed
I love how easy it was to transform this old box spring into a modern looking bed. Here's how she did it: thecleverbunny.com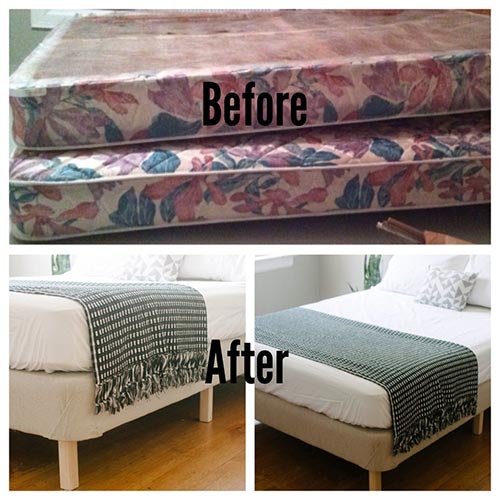 Platform Bed with storage
This is made using cabinets, Altogether there's nine cabinets. Four 80 cm wide ones: 2 in the front and 2 in the back. There's one 60 cm wide cabinet on the back, since the back wall is 230 cm and 60 cm was the widest that would fit. And then there's four 40 cm wide cabinets: one in the front and three in the end. See how to make it here – ohyesblog.wordpress.com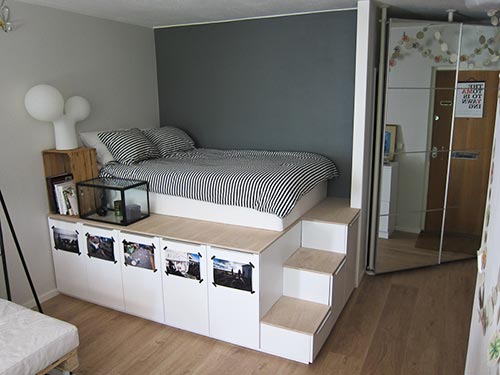 Build Two Toddler Beds for $75
Here is a great way to make 2 super-simple, upholstered platform-ish beds. They are adorable. Especially side-by-side. They are low to the floor, so if Betty rolls off in her sleep, she won't get hurt. See how to make it here- designmom.com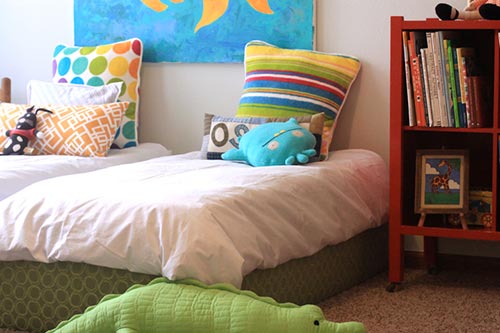 DIY Platform Bed with Storage
If you have a small bedroom or are trying to maximize your storage space then this is a great bed for you to build. With all the extra storage space you will be struggling to fill the draws. See how to build it here – chatfieldcourt.com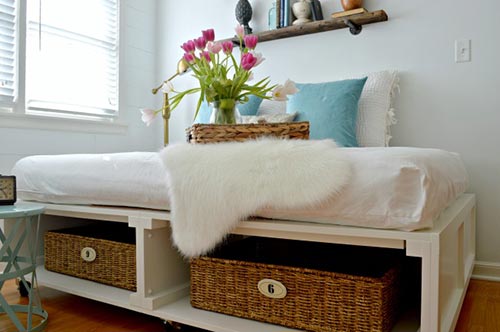 DIY Platform Bed & Salvaged Door Headboard
This is a three part project, 1 – before & After, 2 – how to hang doors 3- how to build a platform bed. See all three part and the final project here – averielane.com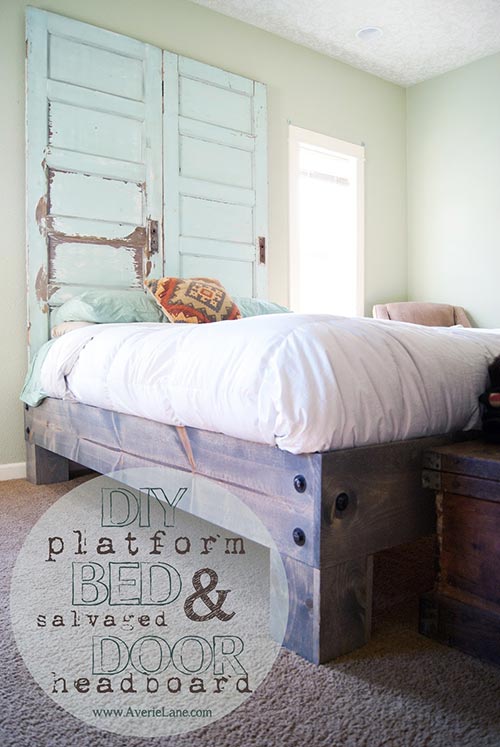 Twin Storage (Captains) Bed
We already have have show you storage beds above,  But this plan is for a twin storage bed, meaning it has storage on three sides. This bed is also (in my opinion) easier to build. See hwo to build it here – ana-white.com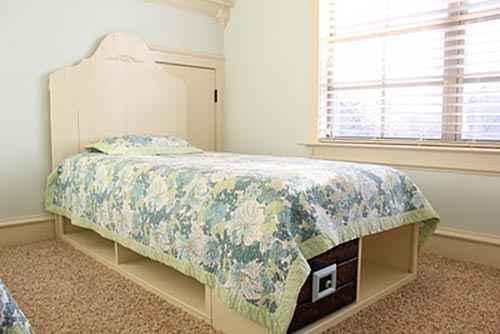 Who does not love pallet projects? i know i do i did a post called 20 DIY Pallet Projects for Your Homestead check that out if you want more pallet project. To see how to make a pallet bed check it out here – santiagodiy.wordpress.com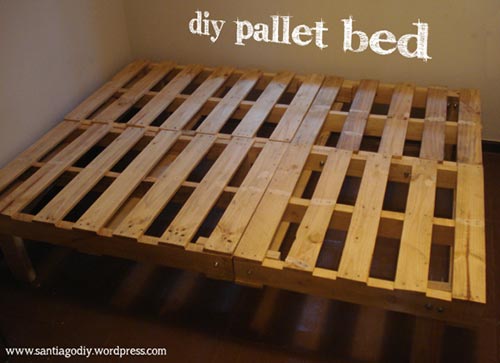 In conclusion and minus all our little mistakes, this bed was very easy and simple to build. It took us around a half a day to build each of the bed and headboard so about a whole day in total (6-8 hours) See how to make this bed here – caldwellcouple.blogspot.co.uk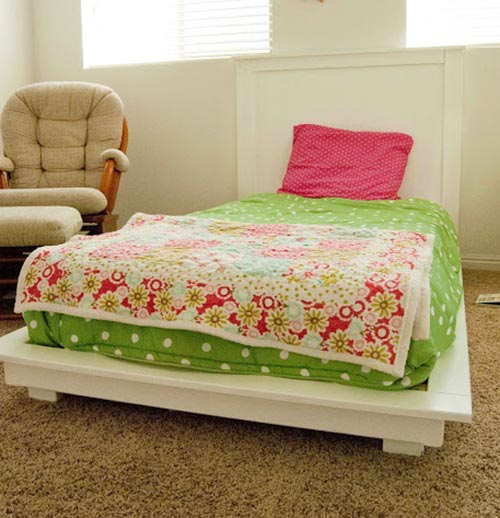 King Bed Floating Platform Bed
If you are looking for a budget platform bed that is bigger than most beds then this is for you, This bed frame was make for $26, for that price its is amazing. Check it out here – mydiyhome.wordpress.com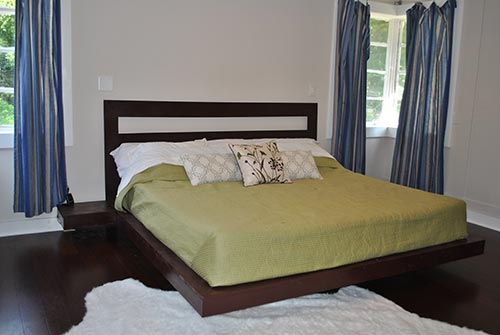 Cheap, easy, low-waste platform bed plans
Build a queen size platform bed on the cheap, with storage space underneath, for less than $30, in about an hour, and learn some basic carpentry skills in the process. See how to build this cheap platform bed here – instructables.com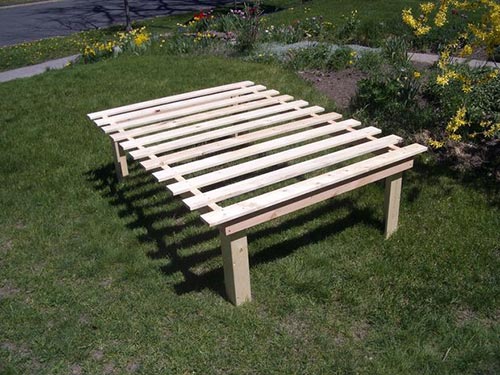 15 DIY Platform Bed Ideas