12 Beautiful DIY Crochet Baby Blankets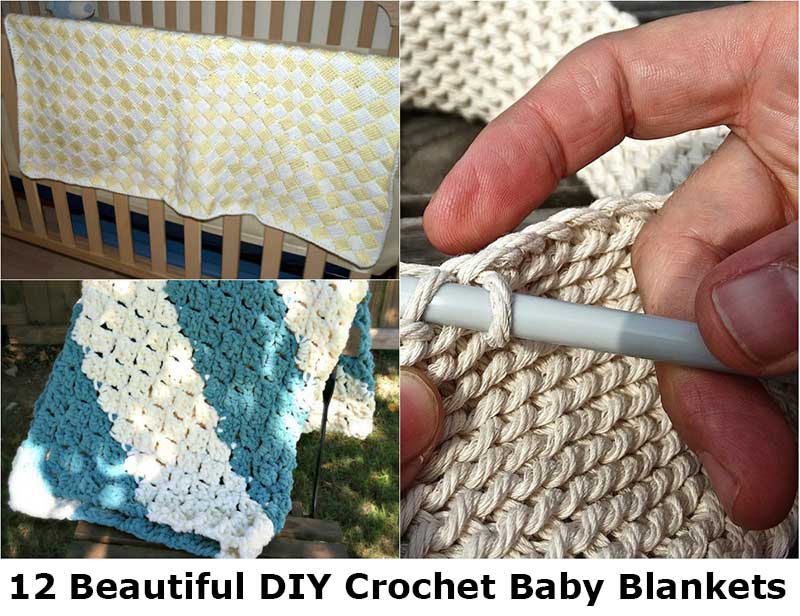 Crocheting baby blankets is a fantastic way to spend your evening. There are thousands of amazing patterns available that make ideal gifts for friends and family. If you are a parent, you might want to stock up on several different styles and sizes. You can never have enough blankets.
No matter the style that you prefer or yarn you want to use, there is a crochet baby blanket pattern out there for you. I've been crocheting for over ten years! I picked some of my favorite patterns for you to make the selection easier. Let's take a look!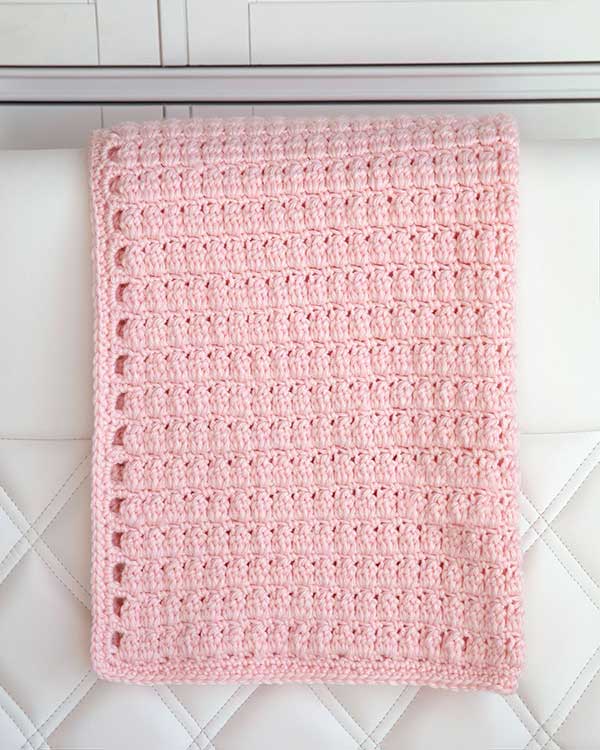 I love easy projects that work up fast. If that is your desire, the Cozy Clusters pattern by LeeLeeKnits is ideal. You will use bulky weight yarn, which means the project is fast. You don't have to mess around with it for weeks. The creator offers an ad-free PDF version for $4 or the free pattern on her blog. Get this Blanket HERE
If you have the desire to make a blanket that is stunning but requires time, the Skittles Blanket is for you. The result is a beautiful rainbow of colors of your selection. Luckily, the pattern only uses simple stitches. You just need to know how to make a chain, single crochet, half double crochet, and double crochet. The creator does a fantastic job creating a fully written pattern with a detailed materials list and plenty of details. Don't feel intimidated. A beginner can make this beautiful, Skittles blanket! Get this Blanket HERE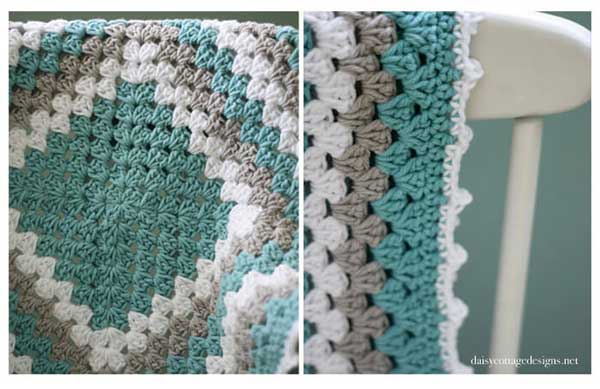 Granny square patterns are a popular choice for beginners and baby blankets. Daisy Cottage Designs offers a free, granny square pattern that creates a lovey size, which is an 18-inch square. However, I used this pattern and just continued the pattern to create the size blanket I desired. It is very simple! Get this Blanket HERE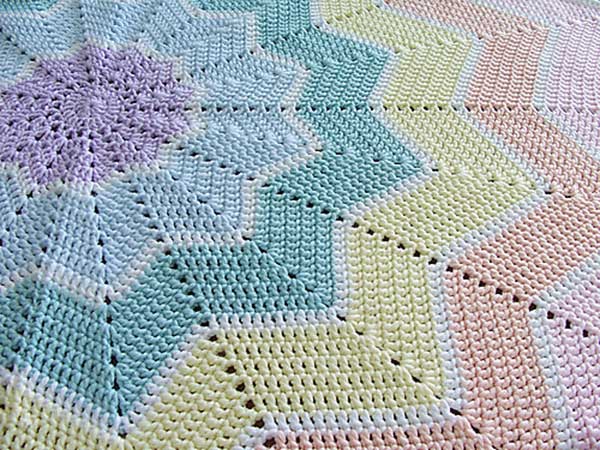 Are you looking for a unique, yet free, baby blanket that will surely wow your friends and family? The Rainbow Ripple Blanket is for you. It is one of the most popular choices available, with over 5,000 known projects created from this pattern. Best of all, it uses stitches that aren't complicated. Despite the beautiful look, beginners are welcome to try this pattern! Get this Blanket HERE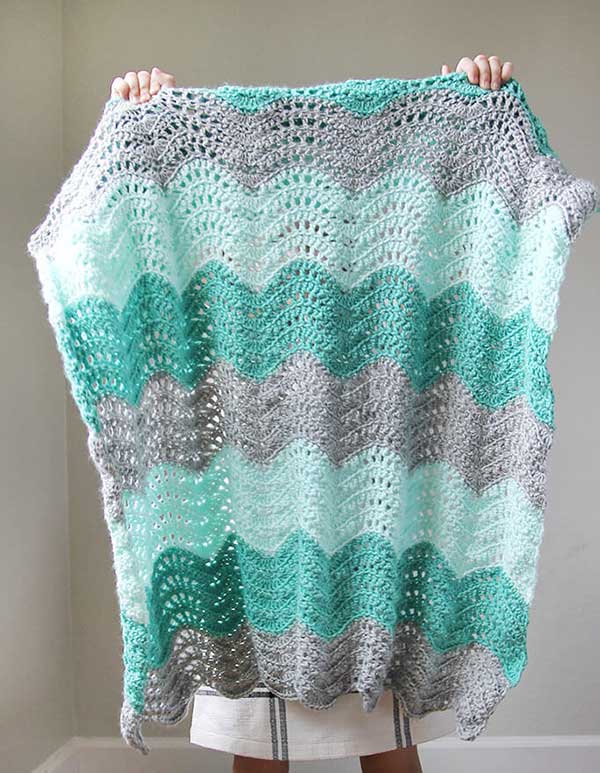 I am a huge fan of this pattern. It creates a lacy, delicate-type look that will always stay in style. You will use a worsted weight yarn, and you'll need several skeins to get the size desired. The pattern calls for a K crochet hook. I love the colors that the creator used, but it would be beautiful in lighter colors as well if you wanted to keep it more muted. Get this Blanket HERE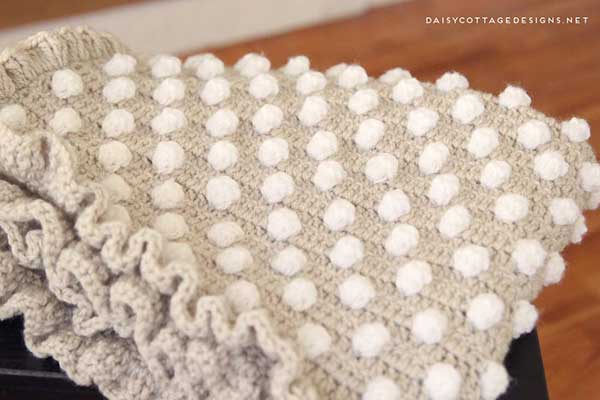 Who doesn't love polka dots? They are fun and gender neutral. Polka dots match almost any theme. I love this pattern by Daisy Cottage Designs. You will worsted weight yarn and several skeins. The project uses a J crochet hook. The pattern itself is straightforward, but the bobble stitch might be confusing for a newbie. However, don't be afraid to give it a try! Get this Blanket HERE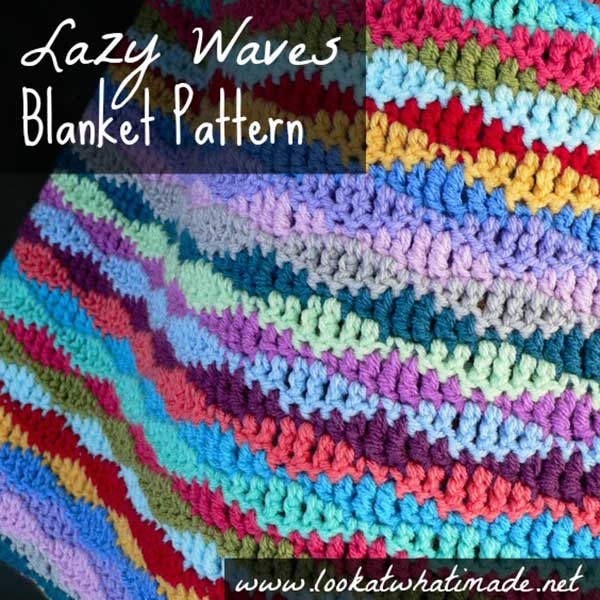 The Lazy Waves Blanket might be one of my favorites. It is thick and soft, yet very easy to make. I love it as a stash buster. What is a stash buster? It is when you can use up a bunch of different yarn that you have in your closet. If you collect enough yarn, you end up having some left that isn't big enough for any other project, but who wants to toss it out? The Lazy Waves blanket lets you add plenty of scraps. You will need worsted weight yarn or two strands of thinner yarn. It uses an I crochet hook! Get this Blanket HERE
Everyone needs to try a Corner 2 Corner (C2C) Blanket one day! The perfect opportunity is when you need a baby blanket because the size is much more manageable when you are learning a pattern. You can use this pattern in any colors that make your happy. C2C blankets are all the rage right now, so give it a try! Get this Blanket HERE
If you have already mastered the C2C blanket, you will want to try one of these Quick and Easy Baby Blankets. It is the same basic pattern as the C2C, but the creator used a larger hook and super bulky yarn. The result is a cozy and fast blanket. If you have the time, you might be able to make this blanket in just a day or two! So, if you forgot about that baby shower, here is the pattern for you. Get this Blanket HERE
I just finished up this project for my newest addition. It is a great way to use up some extra yarn if you have some in your closet. You can pick whatever colors you want, whether it is a true rainbow or just some fun colors. The ruffles do take time, but the result is an eye-catching, beautiful work of art. Despite the complicated look, most of the blanket is double crochet with worsted weight yarn. Get this Blanket HERE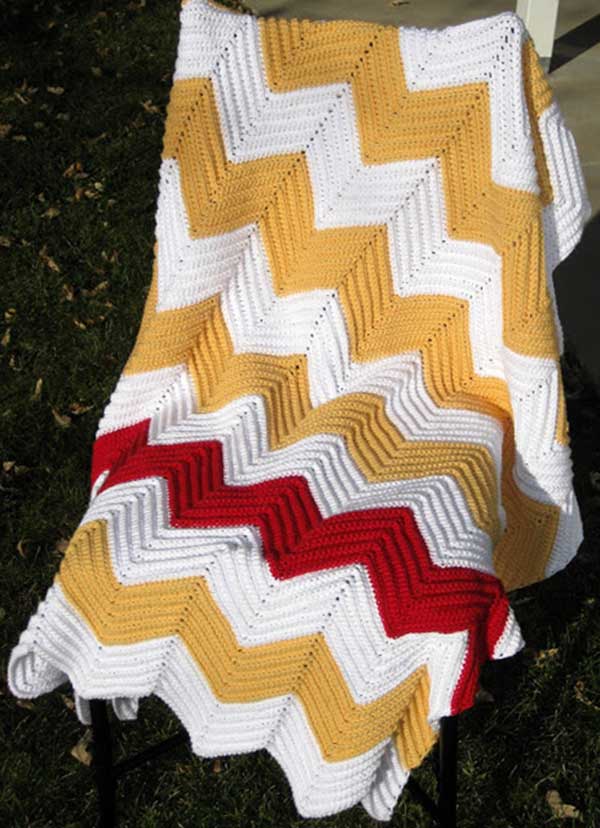 Chevron is an easy pattern to follow. Once you understand the basic pattern, you can use it as a jumping point to create any size blanket that you like. All you need to know how to do is make a single crochet. Once you have that stitch mastered, this pattern will be no problem, making it an ideal choice for a beginner. You will use worsted weight yarn and an I crochet hook. Get this Blanket HERE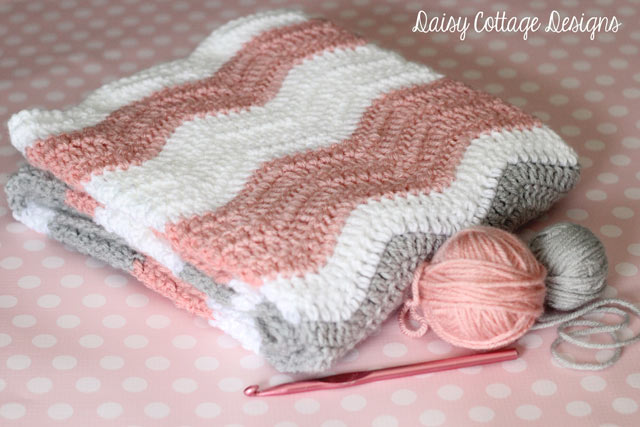 Daisy Cottage Designs is at it again with another free baby blanket pattern. If you are a parent, you will want to create all of her projects. A ripple blanket is slightly different than a chevron blanket because it lacks the points. It is more of a wave rather than a point, which some people to prefer. You are going to need worsted weight yarn and an I crochet hook to complete this project. Ripple Baby Blanket