No Bake Chocolate Granola Cookies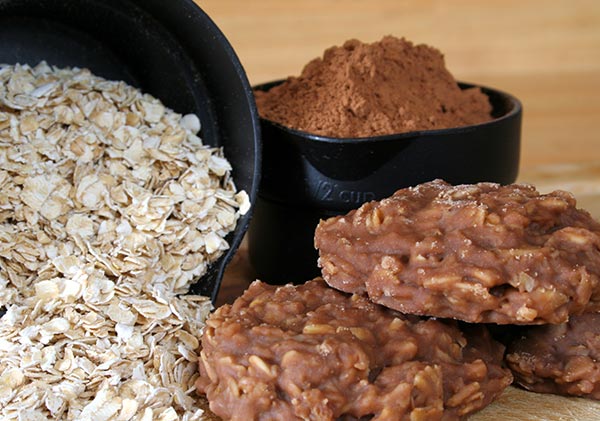 Parents need easy, quick snacks to prepare for their children that don't cost an arm and a leg. Kids are notorious for being picky eaters, but most kids are happy to eat chocolate! That's why these no-bake chocolate granola cookies are perfect. Kids see a cookie, and they are ready to start eating!
I love that these cookies require no baking at all, which makes them great for a summer snack. Heating up your oven heats up the entire house, so avoid that with these delicious no-bake cookies. The cookies freeze well, so you can store them in the freezer and eat them as a cold treat.
Ingredients:
½ cup coconut oil
½ cup peanut butter
3 TBSP honey
2 TBSP unsweetened cocoa powder
½ TSP vanilla extract
1 cup rolled oats
¾ cup granola
Instructions:
1- In a medium-sized saucepan, put the coconut oil, peanut butter, and honey, and turn it on medium heat. Allow these ingredients to cook and melt together, which takes around three to five minutes. Make sure you are stirring to prevent the ingredients from sticking to the bottom of the pan.
2- Then, add the cocoa powder and vanilla extract. Let the ingredients simmer for an additional two to three minutes, stirring regularly. The ingredients will burn easily if you forget to stir!
3- Remove the saucepan from the heat, and stir in the rolled oats and granola.
4- Line a baking tray with parchment paper. You could also just lay the parchment paper on your countertops. Drop 12 heaped spoons of the mixture onto the parchment paper. Mold each into a cookie shape. Transfer to the fridge and allow them to set for 30 minutes.
5- Serve, or store in an airtight container for three days. These cookies also freeze well.
The granola is not necessarily a requirement. You could increase the amount of rolled oats, but granola adds a crunchy texture that many people prefer. Another idea is to add a scoop of protein powder if your child needs to increase their protein consumption.
If you aren't a fan of coconut oil, butter is an easy replacement for this recipe. Do try it with coconut oil first! You won't taste the coconut, but it is a healthy fat for your child to consume. Fats keep your child full. No matter the option you use, the fats in these cookies are perfect for a growing child!