How To Make Apple Pie Fries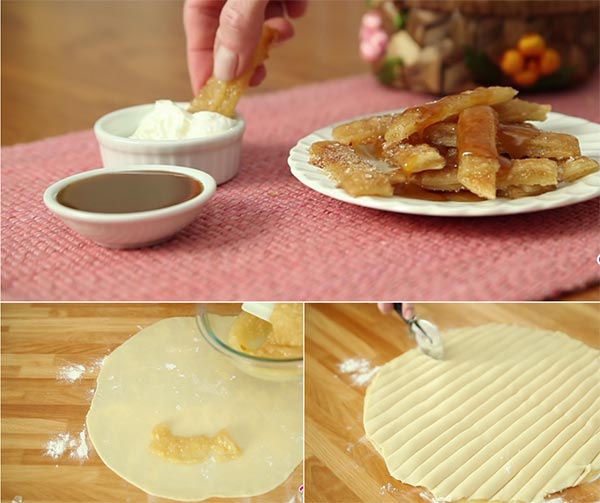 Directions
Start by turning your oven on to preheat it up to 350 degrees Fahrenheit.
Put the can apple pie fillings into a food processor to pulse them until they are smooth enough to work as a paste. You can use a blender as well.
Sprinkle some dough on a flat surface and place the first Pillsbury pie crust on it. Spread the apple fillings on the surface of the crust. Use the other pie crust to cover the surface of the apple fillings.
Use a knife or an edge roll cutter to cut the two crusts into fry shapes. You can cut them to any desired length such as 1/2"lengths. Transfer the individual fry slices to a baking tray using a spatula.
Brush the egg wash over the individual slices while on the baking tray.
Mix the cinnamon, nutmeg and the sugar in a bowl. Sprinkle the mixture on the fry slices. Add sparkling sugar on top of the slices.
Put them into the preheated oven to bake for 15-20 minutes. They will appear golden in color and will be firm once they are ready.
You can either eat it plainly or serve it with caramel or any sauce for a tastier meal. Caramel acts as ketchup.
Conclusion
Ensure that you remove the pastry from the refrigerator 10 minutes before using it. The flour that you sprinkle on the flat surface ensures that your dough does not stick on the flat surface.