20 Imaginative Ways to Use Lavender Oil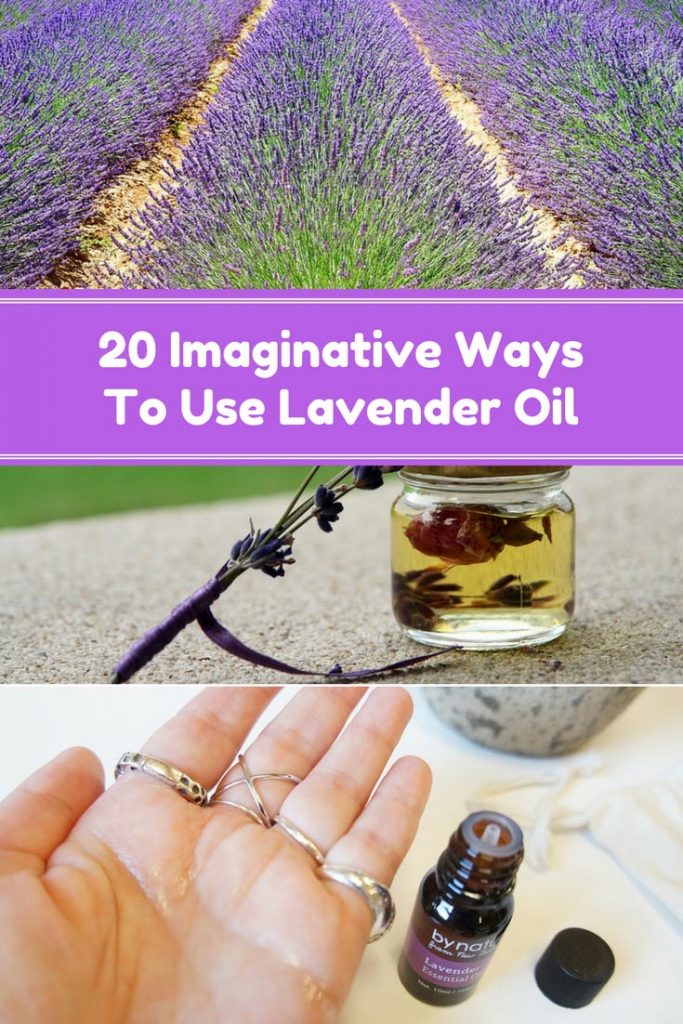 Lavender (lavandula angustifolia) is one of the most versatile herbs and incredibly efficacious as an essential oil. Its botanical name, Lavandula, comes from the Latin, lavare, which means "to wash." It was probably named for its use cleaning wounds, washing linens, and in bathing in general.
Keep a bottle of lavender oil with you at all times and you'll have your own personal perfume, first aid kit, tonic, and pick-me-up. Its health benefits run the gamut from anti-fungal remedy to pain relief and the fragrance is therapeutic and calming. Lavender can be used in many forms including as a dried herb, essential oil, distilled in water, and as a food-grade oil. Here are 20 ways of using lavender as an essential oil.
Anti-Bacterial – Its anti-bacterial qualities make lavender one of the most remarkable herbs in use today. Studies have shown that lavender essential oil is effective against different strains of bacteria and types of fungus. Scientists in the UK found the antimicrobial qualities of lavender to inhibit the growth of methicillin-sensitive and resistant staphylococcus aureus (MSSA AND MRSA). MRSA was created by western medicine's overuse of antibiotics and there is no known cure for it. When mixed with natural surfactants, lavender oil can also improve household cleaners, clean infected wounds, prevent infection, and expedite healing.
Anti-Fungal – Lavender oil can be used as an anti-fungal agent. Western medicine falls short when diagnosing and treating fungal, yeast, and mold infections. By the time these infections are diagnosed, they are often far advanced. Lavender oil can be applied topically on skin infected with ringworm, nail fungus, or diluted and applied externally to bacteria infected wounds. Diffuse lavender oil into the air to kill germs, enhance respiratory conditions, and boost oxygen levels in the blood.
Insect Repellent – Lavender serves as a natural insect repellent and is a safer option than most topical insect sprays. Many bugs simply do not like the smell. You can strategically plant lavender near your doors and windows to deter insects from entering your house, hand dried lavender inside to repel moths, and rub on infected skin to remove scabies. Sprinkle lavender oil on blankets, pillows, or your mattress to prevent insects from burrowing in your bedroom.
Insect Bites and Stings – Lavender oil can alleviate the symptoms of insect bites and bee stings. Put a drop of essential oil on the site of irritation to stop the itching and reduce swelling.
Clarity – Lavender is highly effective at soothing, calming, balancing and revitalizing. The overall effect is one of heightened clarity. Lavender oil in a hot bath or foot soak can cut through fatigue while calming your nerves. Dried and mixed with other beneficial herbs, such as clary sage and frankincense, it makes a good aromatherapy pouch.
See 15 more Imaginative Ways to Use Lavender Oil on page 2