20 Outdoor Lighting DIY's To Brighten Up Your Summer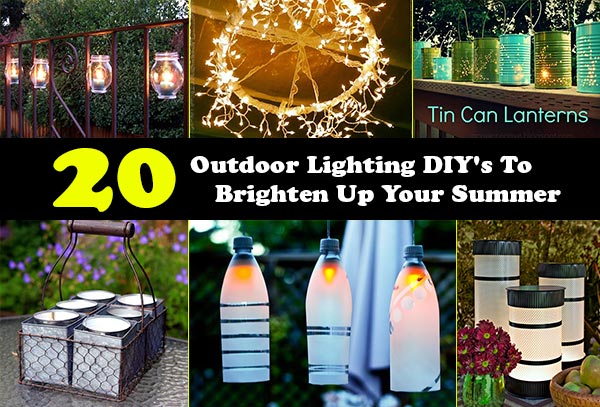 These creative lighting ideas are a cheap and easy way to get your backyard beautiful for summer entertaining.  So lets get creative and bring in a little more light to your outdoor space with these quick and easy DIY lighting ideas. From paper lanterns to hanging tea lights, you'll find everything you need to brighten up your backyard this summer.
Hanging jar lanterns
Got a balcony or porch railing and some jam jars? This is a cheap and easy way to shed some light for trick-or-treaters, or just create a mood for nighttime porch sitting. Source: craftynest.com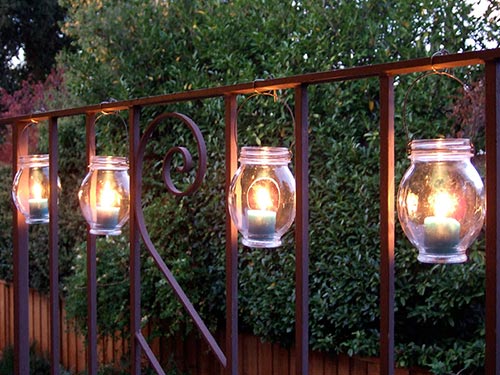 Outdoor Tuna Can Lantern
Use an old tuna can and glasses of various shapes and sizes to create outdoor lanterns. total cost $2.70. Source: inmyownstyle.com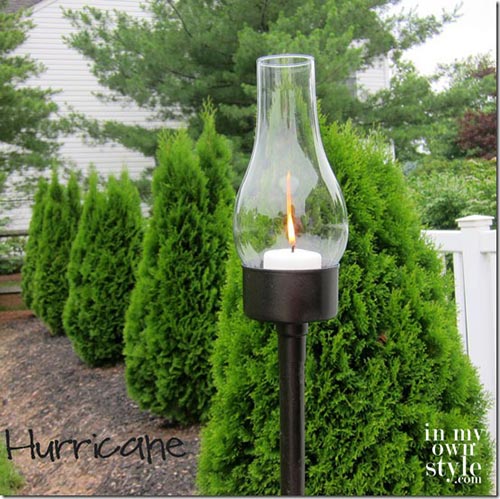 Canning Jar Lights
I saw an idea similar to this in the Pottery barn magazine using Milk bottles and decided to make my own spin. Definitely not Pottery Barn material but, I was happy. Source: michelesapples.blogspot.co.uk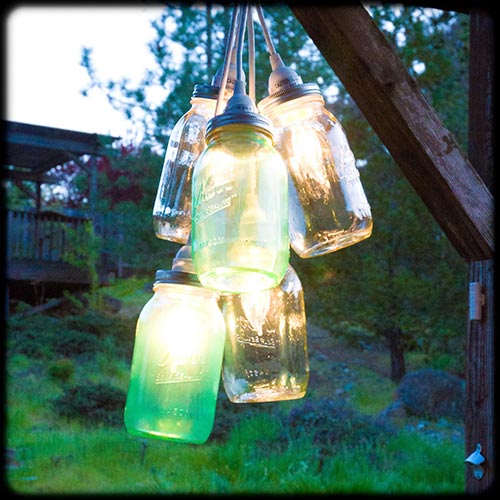 Tin Can Lanterns Tutorial
Follow the tutorial below to get started making your own lanterns for your own outdoor summer party! Source: growcreativeblog.com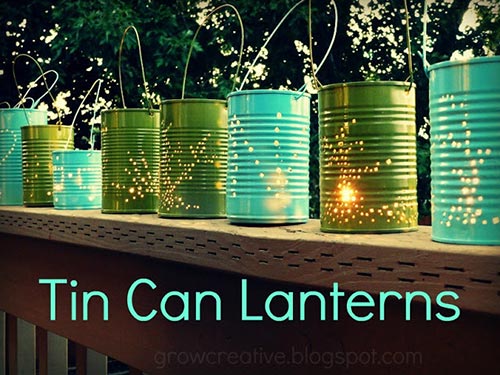 Hula Hoop Chandelier
I went to the Dollar Store and bought a Hula Hoop for a $1 then I went to AC Moore to get some Romantic Lace that I would cover the hula hoop in and also to use as the hanging pieces… Source: sarahontheblog.blogspot.co.uk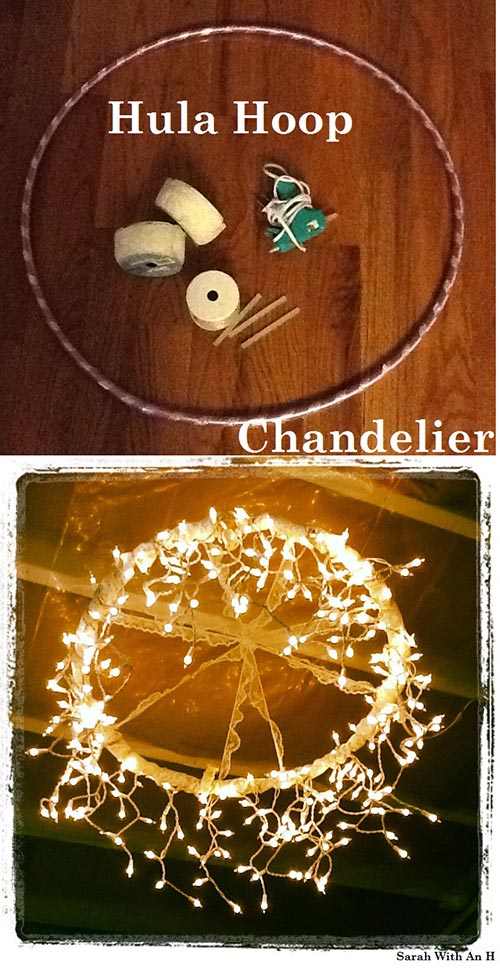 DIY: Wine Glass Candle Lampshades
The project is fairly simple, and allows a lot of room for creativity. You can leave yours as plain vellum, or punch decorative holes in them, screen-print them, or even paint them! It's up to you, but regardless, this project is fabulous, inexpensive, and perfect for any everning party! Source: popsugar.com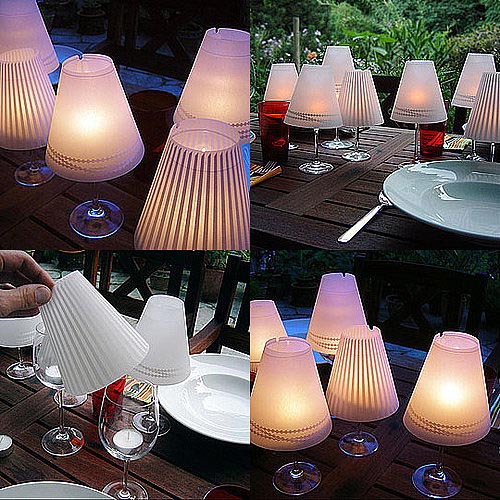 DIY Grapevine Lighting Balls…What a BRIGHT idea!
These little crazed balls may not look like much as you create them, but they are stunners when they are lit at night.  They also look FAB in the garden. Source: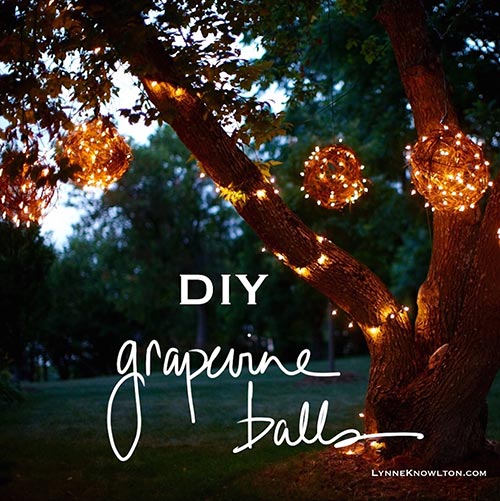 DIY Paper Star Lanterns
I love the ambiance that paper lanterns can create. Especially paper star lanterns. They can instantly transform a ho-hum space into something truly amazing. Source: meandmydiy.com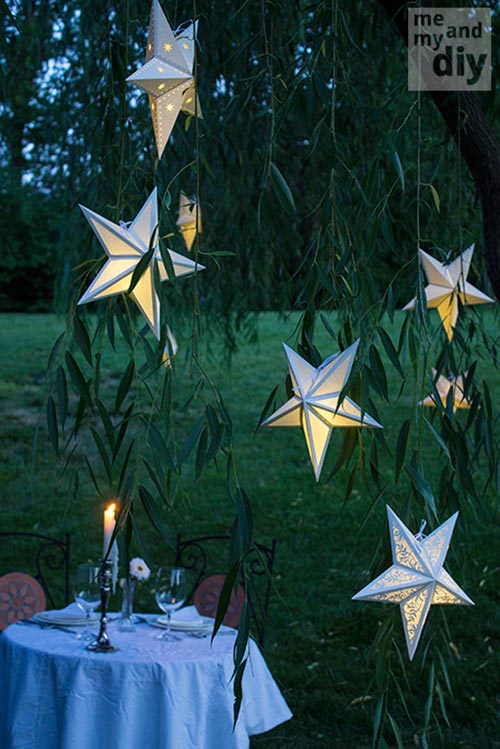 Hanging firefly glass lanterns
They would also look gorgeous for Halloween and Christmas. They use battery operated tea lights, so would be safe to use inside or out. Source: blahblahmagazine.com.au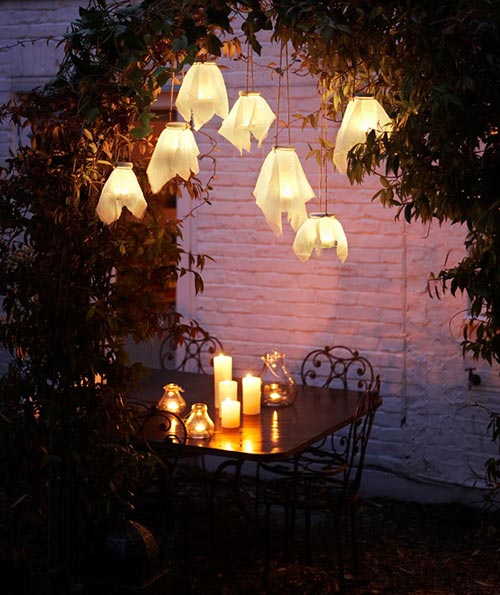 Party lights made out of recycled plastic bottles
The lights look pretty both in the day and at night. They add ambiance to your gathering, and help our planet at the same time Source: easypapercrafts.com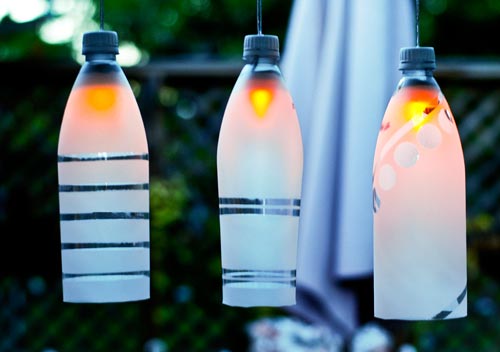 Page 1 0f 2