How to create an incredible penny table top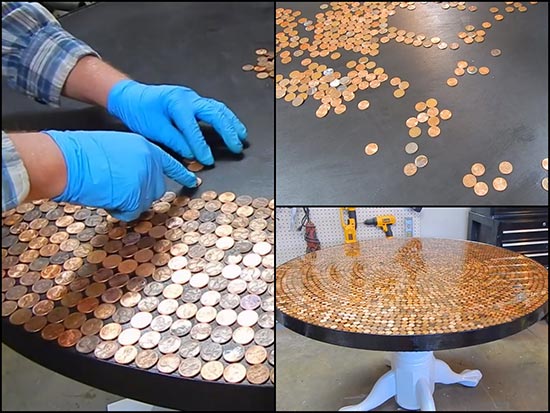 Recycling and refurbishing furniture has become an increasingly popular hobby to pick up. Not only is this habit good for the environment but its hands-on approach for restoration can save big money when compared to paying for brand new things.
Not only that but the decorating elements share something about the owner's personality. If this is something you would like to try, give the glaze coated penny table a chance! You may find your new favorite furniture.
Did You Say Pennies?
When you think about pennies, you do not normally think of using actual pennies as a table top. However, it is a crafty idea! It saves money, shows creativity, and makes the table a one of a kind! The work may seem tedious but it is actually not that bad. Following the video will show you how to do the project!
What is the Video Talking About?
By the end, you will know how to create a penny table. However, there is so much more to it that sticking some glue on pennies and pressing the pennies on the table top. Some of this includes preparing the table, the tools to use, and how to do the project step-by-step. Other steps involve sanding, chiseling, cutting, trimming and more.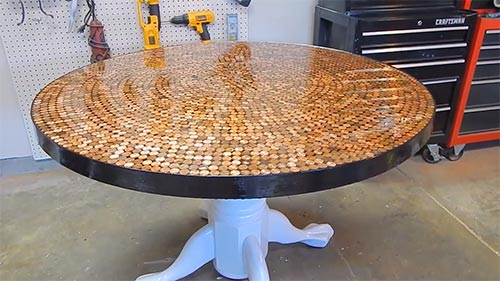 The video even throws in tool maintenance tips as the video goes. Other parts discussed in the video talk about using recycle materials during the table making process. Finally, a way of holding the pennies together without gluing every individual one down is clarified, saving you time and headache!
Why Should You Sit Through It?
People get tired of looking at old, chipped table tops and want a fresh new look. Or, a new style is in order. Whatever the case may be, replacing a table can be expensive. This video gives you an alternative to refurbishing a table top you already have and saving money from buying a new one. Although the penny table is using actual money for decoration, it is relatively cheap.
If you like this idea but are not exactly a crafty or handy person, this video helps guide you with basic steps to create this work of art. This takes a lot of stress and pressure off on your part. Let's face it; DIY projects can sometimes test your nerves. The video will help ensure that the atmosphere remains calm and that you will get a quality finished product.
Why Should You Make a Glazed Penny Table?
It has already been established why pennies are involved. It looks cool! Even then, hundreds of pennies only make a few bucks so it is very practical for people who are spending based on a budget.
The glazed coating replaces the need for glass or outer wood on top which may be something that you like. Even for a DIY project, it did not take a lot of time or effort to create when compared to something like painting. It gives the piece of furniture a more modern flare.