22 Clever Ways To Repurpose Empty Food And Drink Containers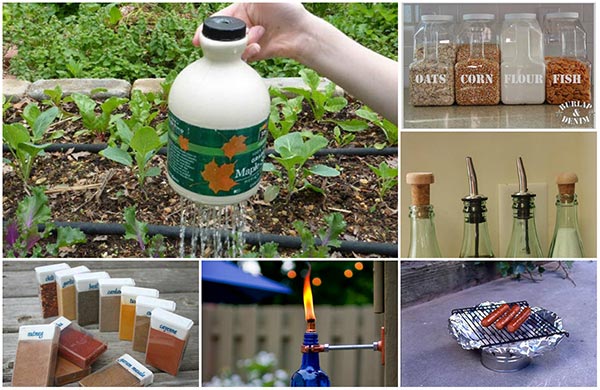 If you have a hard time throwing anything away, this is going to be a dangerous roundup for you. Don't say I didn't warn you. With a huge number of empty bottles and jars piling up in your home almost every month, discarding them is not the best option for getting rid of the containers.
These empty containers can be easily re-purposed and turned into varied functional items.Re-purposing and up-cycling is great way to help the environment and it is super easy to do, there are some fun ideas here, also some practical ones, that I'm excited to feature.
Recycled Wine Bottle Torch
this clever outdoor DIY idea comes from erik anderson of gerardot & co.- a creative branding and design agency in indianapolis. erik was kind enough to share a fantastic project that turns an everyday bottle into a modern backyard tiki torch. Source: designsponge.com
Milk Bottle Garden Tools
Three milk bottles, deconstructed! Four scoops, two trays, one funnel and lots of plastic plant tags. source: recycle-eh.com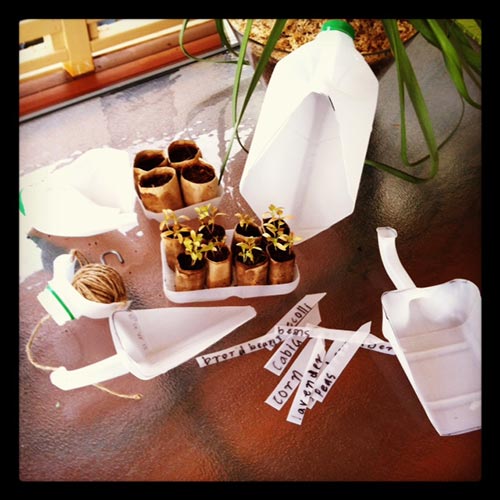 Mason Jar Blender Smoothie
Everyone's blender is different, but put the base together just as you would if you were working with your blender pitcher. Just BE SURE you have everything screwed on tightly. Source: jennyrambles.wordpress.com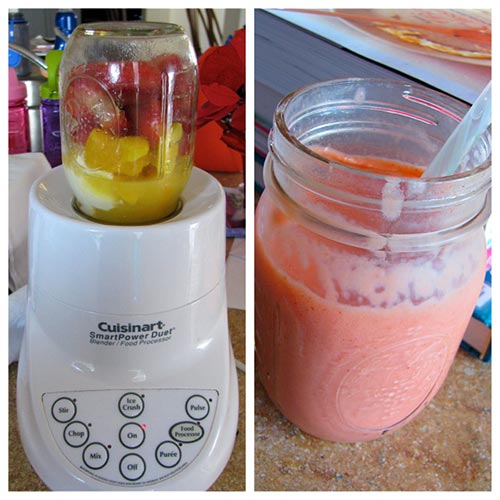 Spaghetti Portions with a Soda Bottle
Use an empty 20-ounce soda bottle to portion out single servings of spaghetti. source: lifehacker.com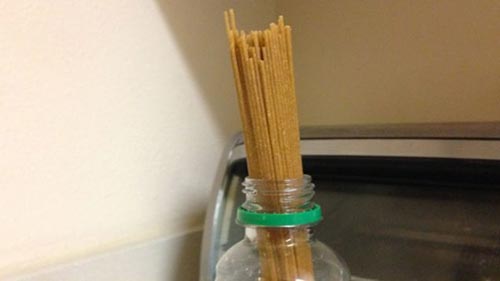 Improvised Grills. . .Create Your Own Grill
Did you know that you can create a mini grill from a tin can?  Perfect for scouting or camping cookout. Source: dianthomas.com
Recycled Craft Supply Organizers
No, you don't need to buy more containers to organize the kids' stuff. You just need to drink more milk. Source: makezine.com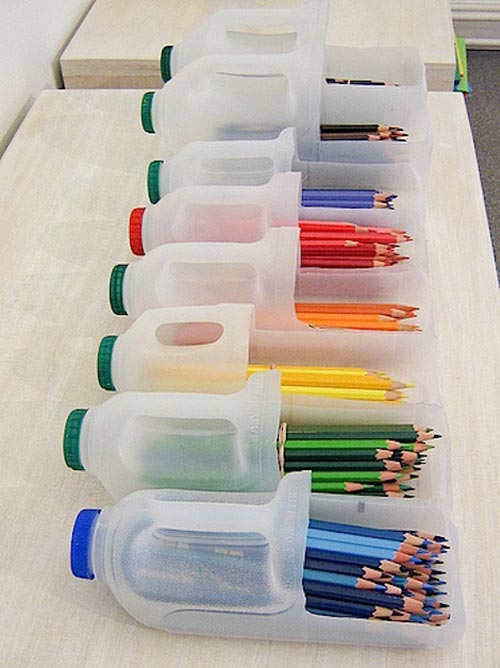 Bottle Cap
How to close a bag of food or a packet of large crisps using a plastic bottle cap. source: hometalk.com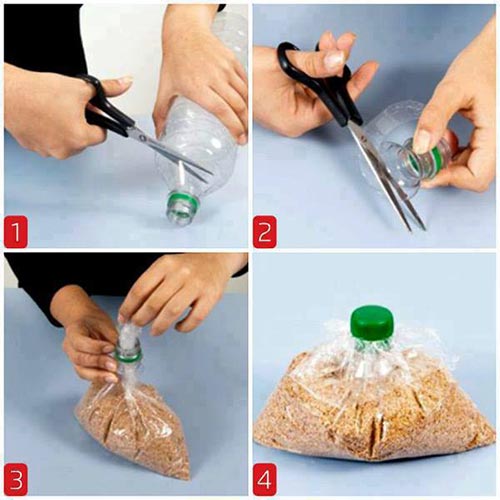 Yogurt Containers as Measuring Cups
An 8-ounce container, filled to a pinkie's thickness from the rim, holds about 1 cup of flour or liquid. Source: realsimple.com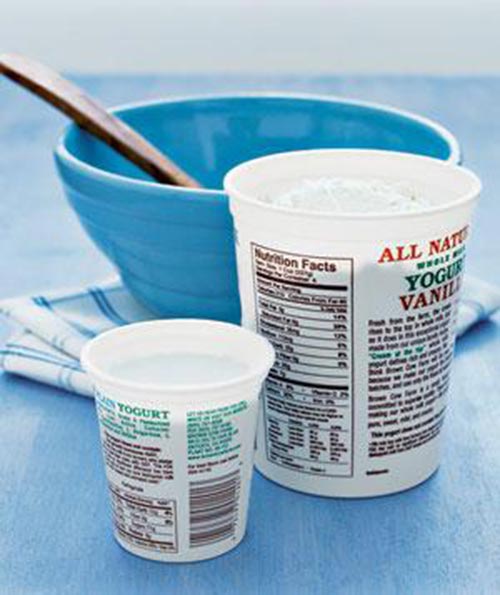 Coke Bottles Cooking  dispenser
(add a spout) Kitchen Cleaning Stuff–baking soda, vinegar, soap and dish-washing detergent. Source: nuannaarpoq.wordpress.com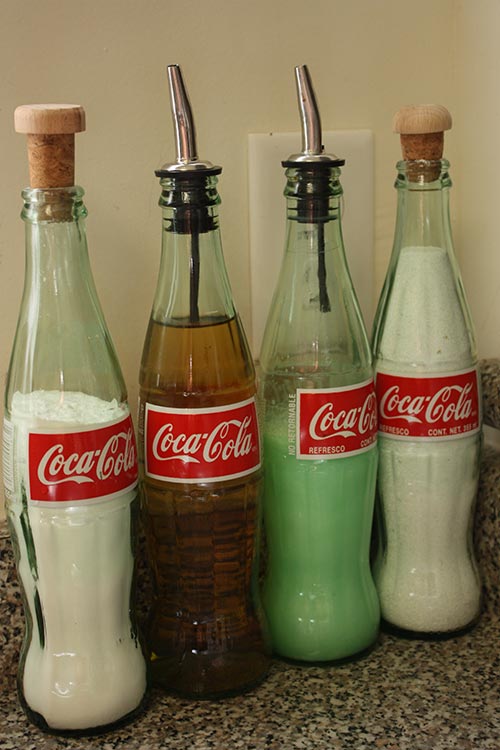 DIY Wine Bottle Candle Holders
You can do it simply by using a beer, soda or wine bottle. Just be creative. Source: homeandgardeningideas.com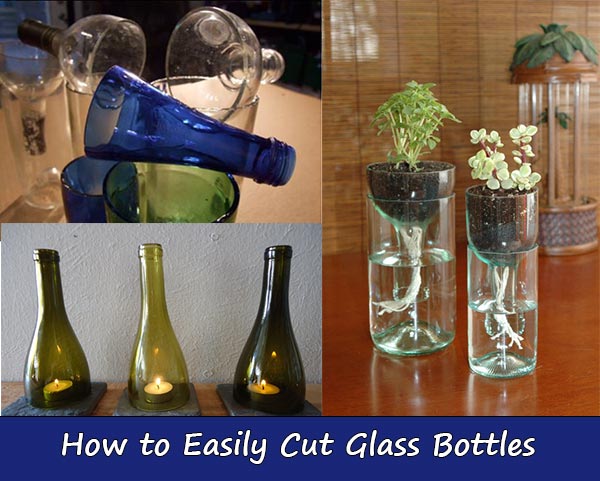 Soft Plastic Bottle Ottoman
In addition to putting them in the recycle bins, you can always recycle plastic bottles in a better way. Source: icreativeideas.com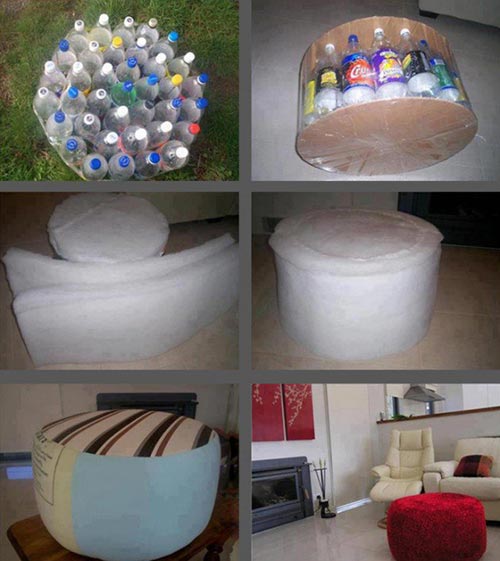 No-Waste Dressing
Have a tiny bit of mustard left in the jar? Toss in a few ingredients, and shake a tangy Dijon vinaigrette right in the container. Source: marthastewart.com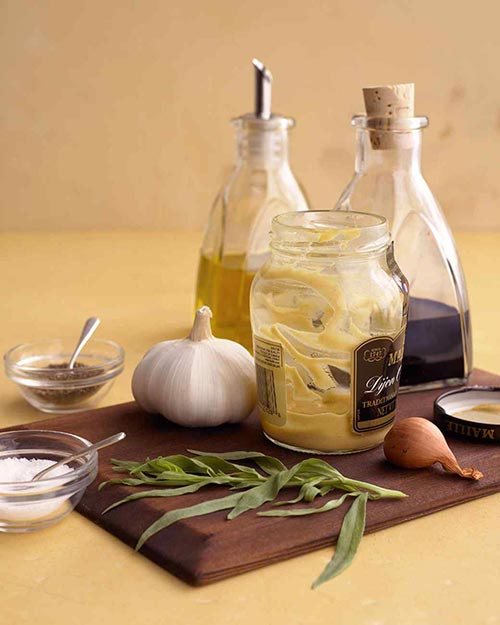 Build Your Own Sprinkler
I have seen some wonderful sprinklers made out of PVC pipe on Pinterest that I would love to make with the kids.  However, we needed a quick simple option for today.  With a few simple steps, you can build your own sprinkler too. source: housingaforest.com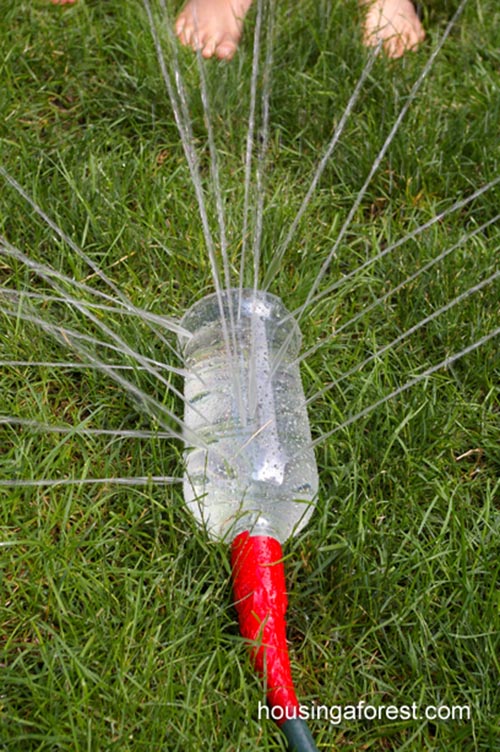 Thumb-controlled Watering Pot Made
The original earthenware "thumb pots" were used in 17th and 18th century English gardens. I reproduced this clever watering device using salvaged plastic bottles and jugs. source: funinthemaking.net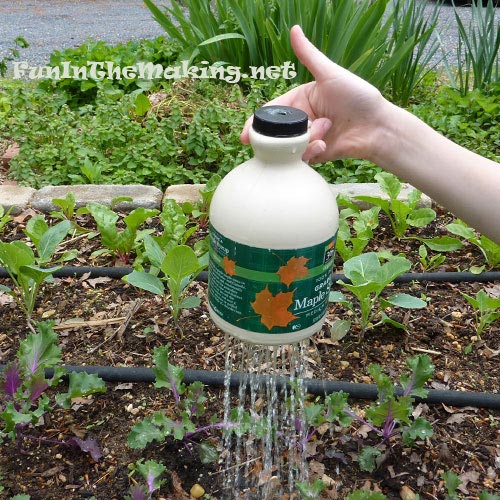 Recycle and Reuse Bulk Packaging
If you buy anything in bulk, save the containers to create your own bulk storage set. source: burlapanddenim.com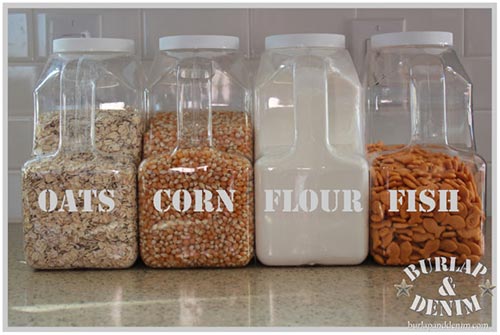 Bottle of Whiskey Soap Dispenser
A standard dispenser top will screw onto a 200-milliliter glass bottle of Jack. Source: pinterest.com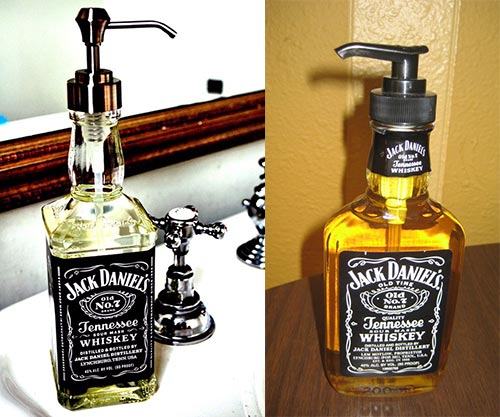 Mason Jar Into An Easy Diy Dispenser
I love this simple trick for creating a pourable container.  Perfect for my collection of mason jars! source: onegoodthingbyjillee.com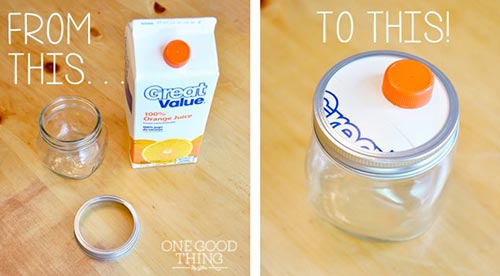 Honey into Delicious Lemonade
When you start running low on honey, the last few drops are usually too hard to extract from the jar to make them worthwhile. Instead of throwing the jar away though, use it to make a refreshing pitcher of lemonade. Source: lifehacker.com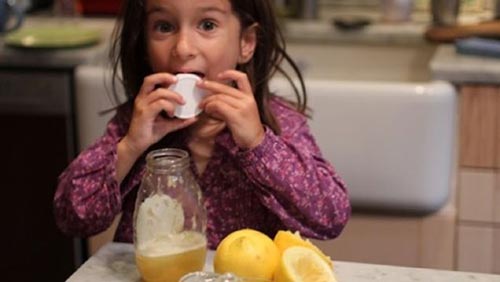 Or How To Make Good Use Of That Last Bit Of Honey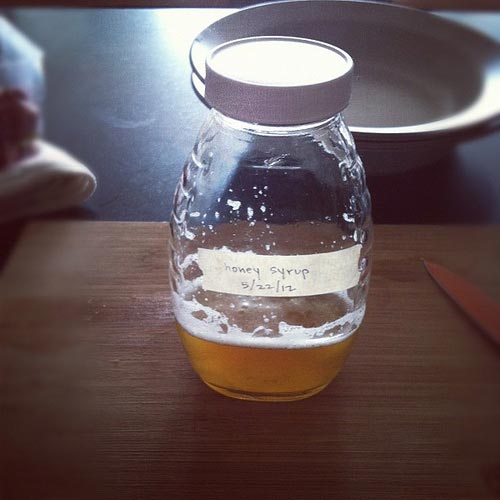 TicTac Boxes for Travel Spices
When you go camping  space is always an issue, so try to use compact and easily packable containers for everything. Source: seattlesundries.com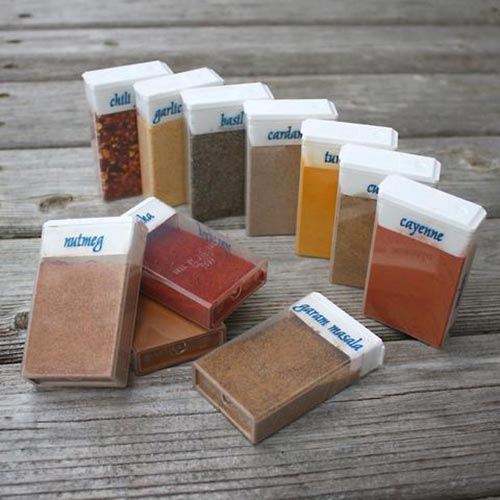 Baby Food Spice Jars
Turn baby food jars into a spice rack using chalkboard paint. Source: craftymisadventures.com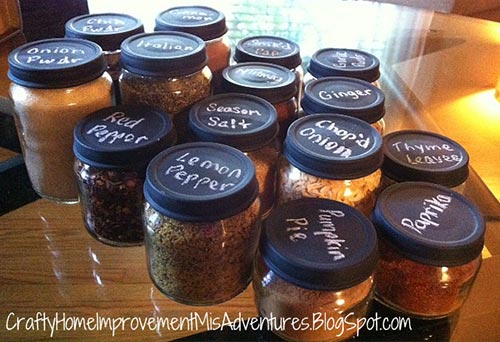 Tin Can Flower Vases
With a few original tin can craft ideas you can transform them into useful decorations for home and garden. Source: upcycled-wonders.com