Organic Gardening – Guide To Starting Seeds Indoors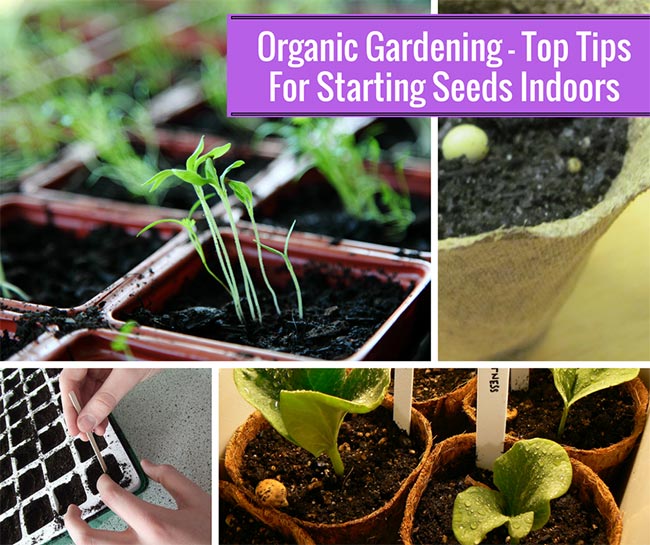 Use this online Garden Planner to help you start your seeds at the right time for your local area. Some crops can be sown earlier than others, while some should not be started indoors at all. Sow in batches every few weeks to stagger your harvests and to avoid losing your entire crop to unexpected weather conditions or pests.
Once your seedlings have sprouted their second set of leaves, you should gently transfer them into pots. Be careful not to damage the delicate capillaries in their stems and to minimize root disturbance. Many gardeners make the mistake of transplanting without labeling. Label your plants! It can be difficult to remember which is which later and different plants require different growing conditions once outdoors. Seedlings need intensive care. Another common mistake is simple neglect. Check them every day by touching the soil to make sure your seedlings have the right balance of moisture and air and be sure they are getting enough warmth and light.
Seedlings are fragile and going from controlled, indoor conditions to the outside world is too much of a shock all at once. For this reason, they require a process called "hardening." Harden off plants gradually by introducing them to outside conditions for brief periods of time every day. This makes their stems stronger and acclimates them so that they can thrive once transplanted into your vegetable garden.
Starting seeds indoors is a straightforward process once you know the steps. You don't have to be a master gardener to produce your own beautiful tomatoes and cucumbers. Simply follow the top tips outlined in this video and check out our online Garden Planner. It's a wonderful resource for gardeners everywhere that digitally tracks weather conditions in your region to provide a planting timeline specifically tailored to you. You are well on your way to growing your own delicious vegetables and herbs from seed.


Thanks for checking out "Organic Gardening – Guide To Starting Seeds Indoors ". If you found this article interesting please consider sharing it on Facebook and Pinning it on your Pinterest boards, this will help spread the word and help hundreds of people see this info too, Also let me know in the comments below if you would like to add any more info to this article…